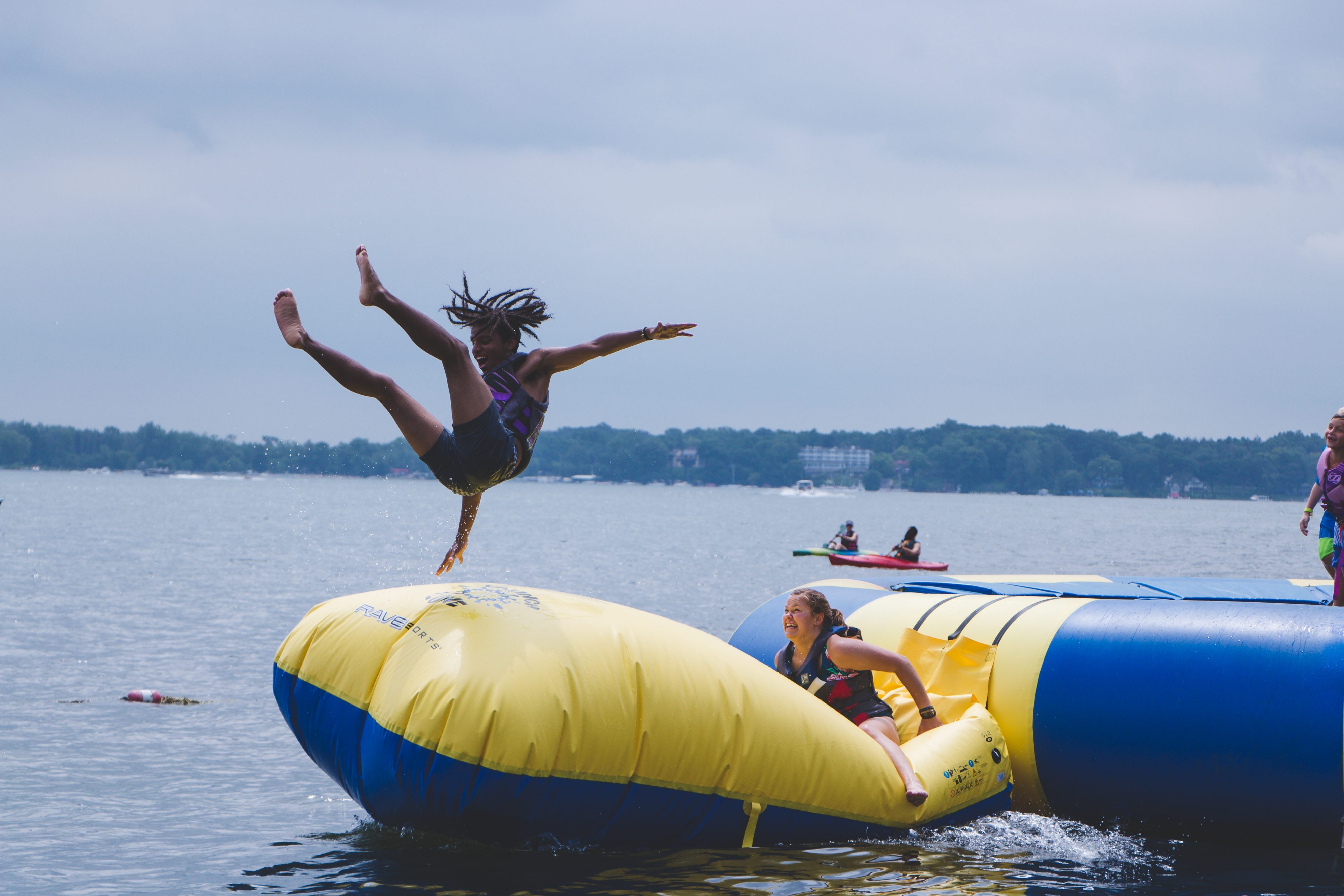 Applications will open in the fall.
Love kids. Share Jesus. Build your resume. 
Work hard. Have fun. Get paid.
Encounter God. Create a community. Discover your gifts.
Does any of that fit into your summer plans?
We thought it might.
We're Covenant Harbor. We hire summer staff who want to do all of the above and more! Working at camp is certainly a unique experience - And it might also be one of the best experiences you ever have. Kids who have attended summer camp can tell you how it impacted their life and maybe even profoundly changed them, and the same is true for many people who work on summer staff. When you work at camp, you may discover talents you never knew you had, a confidence that surprises you, a burst of energy or wisdom that could only come from your reliance on God, a call to a career path or to explore your gifts in a new way, or something else entirely. We can't predict all that God will do in your life when you work at camp, and we like it that way. Likewise, there's no way to know exactly how God might use you to impact kids, peers, staff, camper families, and community members when you work at camp - But trust us, God will!
Your summer could look like this!
All the details about working at camp this summer!
The Dates
All summer staff will attend staff training at Covenant Harbor. Details will be coming soon.
The Requirements
The ministry of Covenant Harbor depends on summer staff who are committed to carrying out our mission: "Love kids. Share Jesus." 
Summer staff, no matter what their job title is, have the incredibly important responsibility of being a Christlike example to campers. We expect summer staff to live a life that honors God at all times, not only while camp is in session. We are not looking for perfect people, but we are looking for individuals who are willing and called. We hire summer staff who:
Have a personal relationship with Jesus Christ

Demonstrate the love of God in their words and actions

Maintain a positive attitude throughout challenging and exhausting situations

Abstain from the use of tobacco, alcohol, marijuana, and illegal drugs for the duration of the summer

Serve wherever needed, regardless of job description

Use discernment in choice of dress, appearance, and language

Abide by the standards listed in the Summer Staff Covenant and General Summer Staff Expectations
Our summer staff make a commitment to teach campers about Jesus. While we don't expect all of our staff members to agree with one another on every single theological point, it is essential that each staff member believes the following:
The Bible is God's inspired word (2 Timothy 3:16)

Only one true and living God exists (Deuteronomy 4:35, 39)

Jesus Christ is the Son of God, fully God and fully human (John 1:14)

Jesus came to earth, died, and rose again for our salvation (1 Corinthians 15:3-4)

Salvation is by faith in Jesus Christ alone (Ephesians 2:8-9)

We are meant to live in relationship with Jesus Christ (John 15:4-5)

The Holy Spirit, the third person of the Trinity, lives with and in believers (John 14:17).
The Positions
Position information and details coming soon!
The Application Process
Applications will open in late fall. 
Here are the basic steps that our application process typically follows.* 
Pray! Our team prays together regularly throughout the application and hiring season. We ask that you enter into this process with prayer as well.

Complete a summer staff application. Be sure that you use an email address on your application that you're able to access easily and check regularly. Much of our application process communication takes place via email. Note: If you were on Covenant Harbor's summer staff in summer 2019 or 2020, please use the "Former Summer Staff Application." All other applicants, including those who were hired for 2020 but ultimately did not work at Covenant Harbor, please use the "New Summer Staff Application."

As soon as you've completed your application, you should send the

online form

to your four references. Please make sure to tell them which type of reference they are (at least one reference must be categorized as "spiritual"). References are your responsibility. If you are concerned about any of your references completing the form in a timely manner, you are welcome to ask more than four individuals to complete the form. Throughout your application process, we will keep you apprised of which references have completed the form.

Within a few business days after your application has been completed, you'll receive a confirmation email from a Covenant Harbor team member stating that we have received your application and following up on any preliminary questions we may have. 

Within ten business days after your application has been completed and after at least one reference has been received, if you are chosen to advance in the hiring process, you'll receive communication from a Covenant Harbor team member to schedule your first interview, which typically takes place via Skype, FaceTime, or Google Meet. A first interview cannot be scheduled until at least one of your references has been submitted.

If you are chosen to continue in the hiring process and at least three reference forms have been received, you'll receive communication from a Covenant Harbor team member to schedule your second interview, which typically takes place via phone.

Once your second interview has been completed and at least four reference forms have been received, you'll receive a hiring decision from the Covenant Harbor team via phone or email.

If you verbally accept a job offer from Covenant Harbor, you'll need to complete some paperwork within two weeks to confirm your acceptance, and you'll continue to receive more communication from the Covenant Harbor team regarding your summer employment.
*The application process may be interrupted or terminated between any of these steps at the discretion of the applicant or a member of the Covenant Harbor team.
Remember, while camp is a fun place, it is also a place of employment. We expect applicants to communicate and present themselves in a professional and courteous manner throughout the application process. An applicant's failure to communicate in a timely manner with the Covenant Harbor team may result in an assumed withdrawal from the application process. In addition, all applicants should communicate directly with the Covenant Harbor team. The application process is confidential, and the Covenant Harbor team cannot share information about any applicants except with the applicants themselves. We are unable to have conversations with parents or guardians of applicants pertaining to the status of the application process.
The Day-to-Day
It's difficult to predict exactly what an experience working at camp will encompass. Every summer, every job position, and every individual is different, but here are some things we're pretty positive about:
 You'll be a part of a fun, innovative ministry and get to see God's unique work in changing kids' lives at camp.

You'll be a part of an incredible community and make life-long friends.

You'll spend your summer in a beautiful place, making the most of life on the shores of Geneva Lake.

You'll grow personally, professionally, and spiritually.

You'll work so hard, be so tired, and have so much fun.

You'll get paid and gain skills you can transfer to other positions in a variety of fields in the future.
The typical daily schedule for our summer staff depends on what position they have and what types of programs are running at camp that week, but here are some things that take place in a typical weekday (not necessarily in the listed order):
Morning: 
Breakfast

Large group chapel session

Activity time
Afternoon:
Lunch

Free time

Canteen time

Small group discussion time

Counselor-led fun (when counselors get to create and lead an activity for their cabin group)
Evening:
Dinner

Large group game

Large group chapel session

Cabin devotions

Sleep! (overnight counselors stay in a cabin with kids, day camp counselors and other non-counseling staff stay in shared single-gender staff housing or sleep in the housing of their "cabin buddy" group)
Most overnight camp sessions run from Sunday afternoon to Friday afternoon. Day Camp typically runs Monday through Friday from 8:30am to 6:15pm. All summer staff will have responsibilities on Friday evenings and Saturday mornings, possibly including, but not limited to, assisting with the housekeeping, maintenance/grounds, food service, and/or youth ministry departments, at the discretion of the Youth Ministry Team.
The Benefits
Salary
$210/week for most positions
Food and Housing
Meals are provided except during your weekly 24 hours off (from around noon on Saturday to noon on Sunday). Summer staff are required to live onsite in shared single-gender housing. Married housing is not available.
Time Off
All summer staff will have at least 24 hours off each week to rest, explore Lake Geneva, worship at a local church, do laundry, visit friends and family, and build community with other staff. Time off is typically from Saturday afternoon to Sunday afternoon, but may vary slightly by position. Please note that we continue to monitor the guidelines of the CDC and consulting medical professionals to guide our policies regarding travel away from Covenant Harbor during the summer.
We ask that summer staff commit to serve at Covenant Harbor from the listed start date to the listed end date of one or both summer staff sessions. Exceptions may include "once in a lifetime" events like a family wedding or graduation. These events must be presented during the application process and approved by the Youth Ministry Team; however, not all requests can be granted. Extended time off needs may exclude applicants from serving on either Session 1 or Session 2 summer staff.
Spiritual Development
We hope and pray that every member of Covenant Harbor's summer staff will grow in their relationship with God during their time here. We encourage summer staff to create purposeful time to commune with God through prayer, reading Scripture, and worship. Summer staff are spiritual leaders for our campers, and must be spiritually nourished themselves in order to pour out onto others. Our full-time staff are also passionate about the spiritual growth and health of our summer staff and campers, and work to create intentional conversations about faith and opportunities to worship God and to consider where he may be working in each individual's life. In addition, we specifically hire summer staff members, called Staff Counselors, to develop community and coordinate daily group devotions. On weekends, staff are encouraged to find a local church to attend a worship service. 
Community
For many staff, one of the highlights of working at camp is the community that forms during the summer. We are all imperfect people who serve a perfect God, and we all work together to share the gospel with campers. What an incredible team! Together, we learn, grow, laugh, conquer challenges and fears, and worship the God who drew us to this place. There is no community quite like the one that you'll find at camp!
Professional and Leadership Development
Many of our summer staff have career goals outside of camp, and we want to help you use what you've learned and experienced at camp to advance professionally. 
Many of our positions can be used to complete internships, and we're happy to work with you to ensure that you're able to meet any necessary requirements. Whether you're working on an internship or not, we want to help you learn skills and gain experience that you can apply to your professional life after your time at camp has concluded. You can't help but become a better leader when you're comforting homesick campers and teaching archery to eight-year-olds. We can help you describe your camp duties in a transferable manner on your resume, consider how your experience may relate in a future interview, and maybe even connect you with camp alumni and supporters in your chosen field.
If you're interested in making a summer staff role into an internship or discussing how a position at camp could influence your career path, please email summerstaff@covenantharbor.org.
Scholarships
North Park University Camp Grant (for current NPU students): North Park University offers $750 to students who attend NPU and return the next school year after working at a Covenant camp in the summer. Contact NPU for more information.
Sterner Scholarship Fund: The Ronald Lee Sterner Trust Fund was established by the Sterner family in 1957 in memory of their son who was adopted through the Covenant Children's Home and Family Services, and special consideration is given to students who have worked summers at a Christian camp. To apply, download and print a Sterner Fund Application Form, then send it to the address listed. 
Volunteer Opportunities
Thank you for your interest in volunteering at Covenant Harbor!
Each summer, we rely on former summer staff to come to camp and volunteer in various roles. We appreciate our staff alumni immensely, and look forward to seeing you back at camp!
Because Covenant Harbor is a childcare provider, we must maintain the highest standards for anyone who works with our campers. Therefore, volunteers must submit a volunteer application to serve at camp in summer programs. Volunteers in summer programs must be former summer staff who served in the summers of 2019 or 2020 and have been through our summer staff training program. Once we receive your application, a member of the Covenant Harbor team will be in touch to catch up with you and have a conversation about the details of your role. Thank you again for your interest!
Interested individuals who were not on Covenant Harbor's summer staff in 2019 or 2020 can see other year-round volunteer opportunities.