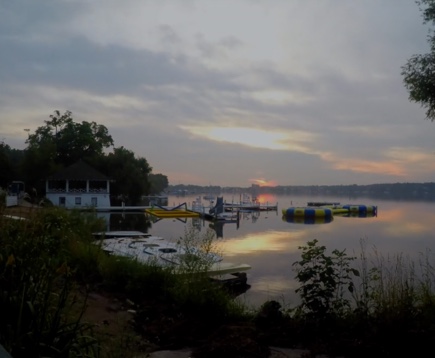 Summer Sunday Worship
Come and worship in our beautiful setting and enjoy a day at the lake. Summer Sundays are a great "first experience" of camp, and a place to invite your friends to great worship.
Every summer, Covenant Harbor hosts a Summer Sunday Worship series that is open to the public. Summer Sunday Worship is one of the few ways to experience camp in the summer and can be a great chance to introduce friends to Covenant Harbor.
Our intergenerational Sunday morning worship services have engaging preaching and songs of praise. Services begin at 10:30am and are followed by a picnic lunch on the front lawn. You may bring your own lunch or purchase one at our Lakeside Cafe. Enjoy our open waterfront from 12:30 to 4:00 pm and staffed with lifeguards.
If you have a camper registered to start a week of camp on a Sunday, come early and enjoy worship and an afternoon at the lake with your camper, before their camp week begins.
Come worship with us in the tent overlooking the lake! Invite your friends to join you for a Summer Sunday Worship experience! Dress is summer casual so you are ready for an afternoon on the waterfront following the worship service.
Dates & Speakers For 2019
| | |
| --- | --- |
| June 16 | Rev. Danny Martinez, Superintendent Central Conference of the Evangelical Covenant Church, Chicago, IL |
| June 23 | Rev. Jill Lind, Director of Congregational Care for the Central Conference of the Evangelical Covenant Church. |
| June 30 | Rev. Tomas Sanabria, Pastor Albany Park Covenant Church, Chicago, IL |
| July 7 | Rev. Dan Hinz, Program Director at Covenant Harbor, Lake Geneva, WI |
| July 14 | Rev. David Washington, Pastor Kingdom Covenant Church, Chicago, IL |
| July 21 | Rev. Tom Beckstrom, former Pastor of Northbrook Covenant Church, Northbrook, IL |
| July 28 | Rev. Meagan Gillan, Interim Lead, AVA and Project Free for the Evangelical Covenant Church. |
| Aug 4 | Rev. Lance Davis, Executive Minister Develop Leaders, Evangelical Covenant Church, Chicago, IL |