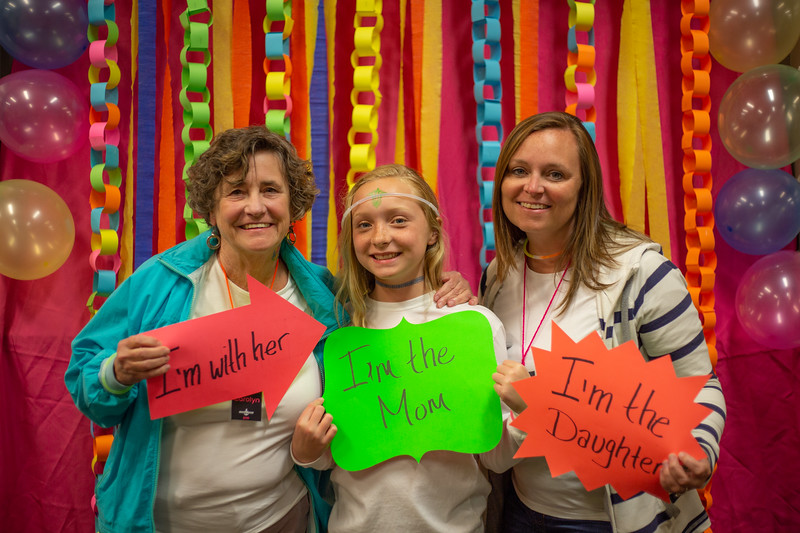 Moms & Daughters Retreat
Our goal for this retreat is for you to deepen your relationship with each other and the Lord through new activities, workshops, Biblical teaching, worship, meeting new friends, and so much more.
Moms and Daughters is an annual retreat focused on strengthening relationships with each other and with the Lord.  It is geared toward moms and daughters in grade school (K-8), but aunts, grandmas, friends, sisters and daughters of all ages are welcome to attend.
We invite you to join us on Friday for activities and a large group session (complete with singing, large group Bible messages and silly games).  Stay all day Saturday for workshops, more worship sessions, free time together, and a themed party.  You are welcome to stay as late as you like and enjoy a campfire Saturday night. You can also decide to stay an additional night if you and your family would like.
We strive for a culture of grace and kindness.  We know that this group is all a bunch of humans trying our best.  We want this weekend to be excellent, but we also want to allow space for relationships, for trying new things, for recharging, and for growing with God.  We think you'll really love it.
See what the Moms and Daughters retreat is all about!
Get the details for the Moms & Daughters Retreat
Weekend Theme
Weekend Theme: Together
Matthew 11:28
"Come to me, all you that are weary and are carrying heavy burdens, and I will give you rest."
Jesus invites us to approach him with all the things we carry, big and small. He offers us real rest – A kind of peace that only he can provide. Together with Jesus, we can walk through days that are beautiful and days that are hard (and sometimes both at the same time!), knowing that we don't bear our burdens alone. We can trust that Jesus is present with us and that he keeps saying, "Come to me." Together with our loved ones, we can point each other to Jesus. We can come to one another to share our joys and our challenges, and we can go to Jesus together.
We hope you'll join us for Moms & Daughters to hear about the rest that God offers to us, and to be together at camp, together in worship, together in fun, and together in focusing on Jesus!
The retreat will include biblical teaching from gifted speakers, praising God through community worship, and new and old favorite activities. We can't wait to experience it all… Together!
The Cost
Discounts
Early Registration – Register by March 15 and each person saves $15
Share a Room –  (Geneva Bay Center or Camp) Share a room with another parent and child and each person saves $15
Bring-A-Friend –  Bring a parent and child who have never attended Moms & Daughters and each person (the new and returning ones) saves $15
Prices
Prices below reflect the per person cost for Moms and Daughters Retreat including four meals (Friday dinner – Saturday dinner), all programming, two workshops (with the exception of workshops with additional cost), and lodging (with the exception of commuters).
Geneva Bay Center (air conditioned, private hotel-style rooms):  
Adult (18 years old and older) – $239
Child – $199
Traditional Cabin (bunk room style housing):
Adult (18 years old and older) – $169
Child – $129
Commuter (no lodging, discounts do not apply):
Adult (18 years old and older) – $139
Child – $99
Add a Night – Stay at camp until 9am on Sunday for an additional $10 per person.
Cancellation Policy
Cancellations must be received in writing. A non-refundable deposit of $30 per person is due at the time of registration. Remaining balance must be paid in full by April 23, two weeks prior to the start of the retreat. Cancellations received more than two weeks before the event will receive a full refund minus the non-refundable deposit of $30 per person. Cancellations less than two weeks before the event are not eligible for a refund. 
Medical cancellations at any time (including for COVID-19 exposure or illness or a related concern), will result in a full refund minus a $30 processing fee. Alternatively, you may transfer your deposit and fees to a summer program for 2021.
In the event of a retreat cancellation by Covenant Harbor, all registered participants will be eligible to transfer all payments to a summer program for 2021, receive a full refund, or turn their payments into a donation.
General Information
This retreat exists to love kids and share Jesus in an environment that connects and equips moms, too. We do this through a program that deepens relationships through biblical teaching, worship, and bonding activities that moms and daughters can take back home for continued growth.
Check-In Information
Check-in will be from 3:00-5:00pm. Follow the prompting of our staff through our drive-through check-in service!
Packing List
Weather appropriate clothes
Bible
Toiletries
Bedding & Towels (provided in Geneva Bay Center)
Check out our full Moms and Daughters Packing List
Dietary Needs
A significant number of guests have unique dietary needs that can be easily accommodated. Our main dining facility is completely nut-free, as is our primary camp store. Please indicate any specific camper needs on your online registration and/or notify our registrar (camp@covenantharbor.org) at least 3 weeks in advance so that we may fully accommodate your family.
Available Technology
While camp is an important time to get away from many routines of life, we understand that connection with the outside world is still important. Several common spaces around camp offer wireless internet access, and most cell phone providers offer excellent signal strength.
The Workshops
Workshops for Moms & Daughters 2021: 
Bubble Painting: Create something awesome and get a little messy! Great for younger daughters.
Camp Crafts: Enjoy creating some classic camp crafts together. Learn something new and recreate an old favorite. This workshop that's perfect for any age!
Canvas Painting (Morning only)-$10 per person-this workshop is full: Let's paint together! Be guided in some beautiful canvas paintings.You'll learn some simple techniques that will lead you to an end result you'll be proud to hang in your home/room. Perfect for daughters in 3rd grade and up.
Ex-scavenge-ganza: Have a great time as you go around camp finding and completing a variety of missions. Travel at your own pace as you work together as you complete each step. Great for all ages!
Get Grooving (Afternoon only): During the time together, participants will be taught a simple Jazz/HipHop routine. They will also learn a few dance skills that they can take with them to create their own dance in the future! This is ideal for daughters 2nd grade and up.
High Ropes-this workshop is full for both the morning and afternoon: For all you adventurous moms and daughters, climb and explore the multiple path, high ropes course. You are sure to find a few bonding moments along the way. High ropes course is for daughters in 3rd grade and above.
Laser Tag: Have a blast with with our laser tag markers! A variety of games will give everyone a chance to build confidence and sharpen skills. Morning workshop is open to all ages. Afternoon workshop is for daughters in 3rd grade and up.
Outdoor Cooking-$10 per person: Snuggle up close to a fire and make a delicious snack together. Ideal for daughters 1st grade and up. (Gluten friendly option available)
Riddle Room-this workshop is full for the morning; still available for afternoon: Challenge yourself while solving puzzles and riddles to move on to the next challenge. Can you solve them all in time? The Riddle Room will be fun for daughters in 4th grade and above.
A Taste of Summer-$10 per person-this workshop is full for the morning; still available for afternoon: Welcome the warm weather by creating the first taste of summer! Make scones from scratch and homemade lemonade. Concoct your own delicious flavor combinations and enjoy some messy and yummy fun together. (Gluten friendly option available)
"We'll Do Our Own Thing!": Lake Geneva has so many great shops and other things to do! Make this retreat what you need and enjoy some unstructured time together.
The Speakers
Our speaker for Moms and Daughters will be announced soon!
Health Screenings
We are looking forward to Moms and Daughters this year! While some aspects of this retreat are different than previous years, our commitment to ministry is not. We continue to remain committed to high standards of health and safety, as well as meeting and exceeding state, local and CDC recommendations.
Based on anticipated COVID-19 conditions and best practices, here is some of what you might expect at Covenant Harbor this retreat. However, please remember that guidelines and recommendations may change before summer. Some may be adjusted based on restrictions and guidance of health and local officials.
Pre-Camp Screening 
All guest and staff will complete a health screening prior to arrival at Covenant Harbor. Your health screening will be available to fill out two weeks prior to the start of the retreat. During the retreat, we will conduct daily temperature readings as well as verbal well-checks.
Increased Sanitization
High-touch areas of our site and facilities will be sanitized at an increased rate. New hand-washing and sanitizer stations will be added to key areas.
Face Masks 
Covenant Harbor has committed to adhering to the guidelines and mandates of the CDC and other federal, state, and local authorities. The face mask policy will proceed from the recommendations of those entities at the time of the retreat, which causes this policy to remain subject to change up to the point of arrival at camp. Covenant Harbor anticipates the possibility that campers and staff may need to wear masks when indoors with groups other than their own cabin, and expect that campers and staff may not be required to wear masks when inside their own cabin, while eating/drinking, while participating in physically strenuous activities, or when outdoors and able to maintain distance from others outside their own cabin group.
Modified Programming 
Our outdoor environment will be heavily utilized for as much programming as possible – even more than usual.
The Schedule
Schedule for 2021:
Friday May 7:
-Check-in – check-in will be from 3:00-5:00pm. Follow the prompting of our staff through our drive-through check-in service.
-Move into your cabin, enjoy some camp activities and explore Lake Geneva
-Dinner
-Session – outside in our worship tent
-Optional late night activity
Saturday
-Breakfast
-Session
-Workshops – choose from your favorites through our online registration
-Lunch
-Workshops – choose from your favorites through our online registration
-Free Time
-Dinner/Themed Event
-Session – outside in our worship tent
-Departure starting at 8pm
Optional campfire
*Optional extra night for $10 per person
Sunday:
-9am check out