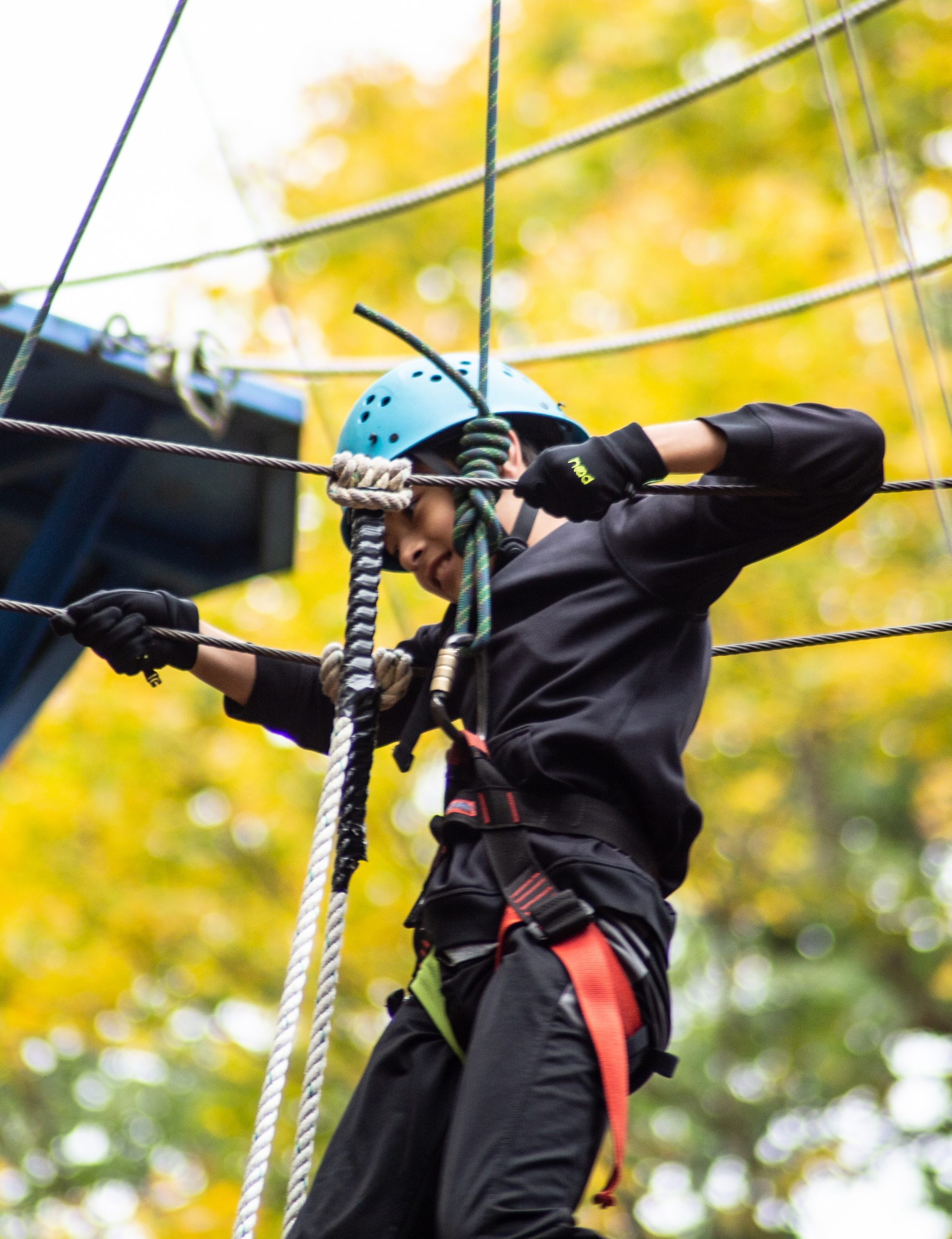 Camp Activities
Camp activities are great for all ages and provide opportunities for a variety of different experiences. Find out more below!
Waterfront Activities
At Covenant Harbor, waterfront activities play a pivotal and fun role in our experiences! Check out what you can enjoy during your time at camp.
Swimming
Enjoy Covenant Harbor's beautiful lakefront property at the Waterfront. Swim out to the raft in the deep end and slide down the water slide into the shallow end.
Water Playground
Try our aqua jump water trampolines – bounce platforms that float on water. Each aqua jump can have six guests on it at once as they jump, walk the slide walk, and slide down the inflatable slide.
Aqua Launch
This fun attachment for the water playground can bring a smile to every guest's face. Sit on the end and take a ride or take a turn administering the launch.
Banana Boat
Ride the banana boat as a group! Towed behind a boat, the banana boat seats up to eight guests at once for a fun and exhilarating ride.
Double Tubing
Hold on tight as you are pulled bouncing and splashing behind one of Covenant Harbor's boats. Two persons per tube and two tubes behind the boat provides an exciting experience.
Canoeing
Anyone can enjoy the beauty and serenity of the water as they paddle with their friends. Our trained staff will lead campers down the shoreline of beautiful Geneva Lake.
Adventure Activities
Experience Covenant Harbor from the high ropes course or swing through the woods on our Giant Swing!
Climbing Tower
Challenging and tall our expertly supervised climbing tower will challenge guests to push their comfort zones and experience something new. As a reward for reaching the top of our 50 foot climbing tower, guests can sail down the 300 foot zip line back to the ground.
Zipline
While harnessed in, guests experience 300 feet of exhilaration as they fly through the woods from the top of our 50 foot climbing tower. This is a unique and thrilling experience unlike any other.
High Ropes
The Covenant Harbor high ropes course offers both physical and mental challenges as guests take on elements like the balance beam, leap of faith, tire swings and the dangling duo.
Low Ropes
Guests will attempt a series of obstacles and team building activities. These low ropes elements are laid out throughout the woods on Covenant Harbor grounds.
Indoor Climbing Wall
The newest adventure activity at Covenant Harbor is our indoor climbing wall. Designed for several climbers at once, it is a great chance for guests of all ages to try climbing, even if it is raining!
Giant Swing
This new thrill ride is just outside the Jackson Family Activity Center and allows two persons at a time to be pulled up as high as they prefer before swinging out past the tree branches.
Outdoor Activities
Get outside and experience all the outside activities available at camp!
Mountain Boards
Ride down our hill into the green grass of the big field and feel the wind in your hair. Mountain boards (similar to skateboards only larger and built for grass and dirt) are a fun challenge for any age.
Archery
Covenant Harbor's archery range is nestled among the trees surrounding the big field. Trained staff instructors will guide you on the proper use of bow and arrows so you can take turns popping balloons and hitting targets.
BMX Bikes
Catch some air and feel the breeze while riding our BMX bikes through the trails and down some hills. Campers will get the opportunity to use the bikes on the big field during activity times or ride through the trails for skills.
Playground
Slides, swings, balance beam and other obstacles make up the playground on Covenant Harbor's front lawn. This playground is used during free time and any hang out times. A second playground is located at Kishwauketoe.
Skate Park
Whether it's your first time or you're a seasoned veteran, our skate park offers hours of skateboarding and rollerblading fun. And if you're already grinding rails and doing kick flips then we can help you hone and advance your skills.
Tree Swing
Take turns swinging back and forth under the branches of the tall trees. Located near the tree house, the tree swing is fun for all ages.
Basketball
Whether you're playing on one of the three outdoor basketball hoops or you're in the climate controlled Jackson Family Activity Center, you can enjoy hours of basketball every day.
Carpetball
This classic camp activity is a favorite for campers of all ages. It involves a long wooden trough lined with carpet and attempting to knock a number of billiard balls off your opponent's end first.
9-Square
Imagine foursquare but with nine squares. Then imagine combining that with volleyball and playing with a big toy rubber ball… that's 9-square. It's a constantly moving game that is fun for all ages.
Indoor Activities
We have plenty of activity options no matter the weather!
Arts & Crafts
Escape from the hot sun in the shade of the Arts and Crafts building. Whether you're making a bracelet for mom or a picture frame for yourself there are plenty of good times to be had up at arts and crafts.
Bounce Castle
Laugh, giggle, bounce, and slide as you enjoy the bounce castle. Most often the bounce castle is located in an air conditioned space.
Game Room
Each guest has the opportunity to enjoy foosball, air hockey and ping pong in the game room located near the Galley in the Jackson Family Activity Center.
Open Gym
During free time you can take advantage of the Jackson Family Activity Center's gym and shoot some hoops or play volleyball in the extremely enjoyable air conditioning.