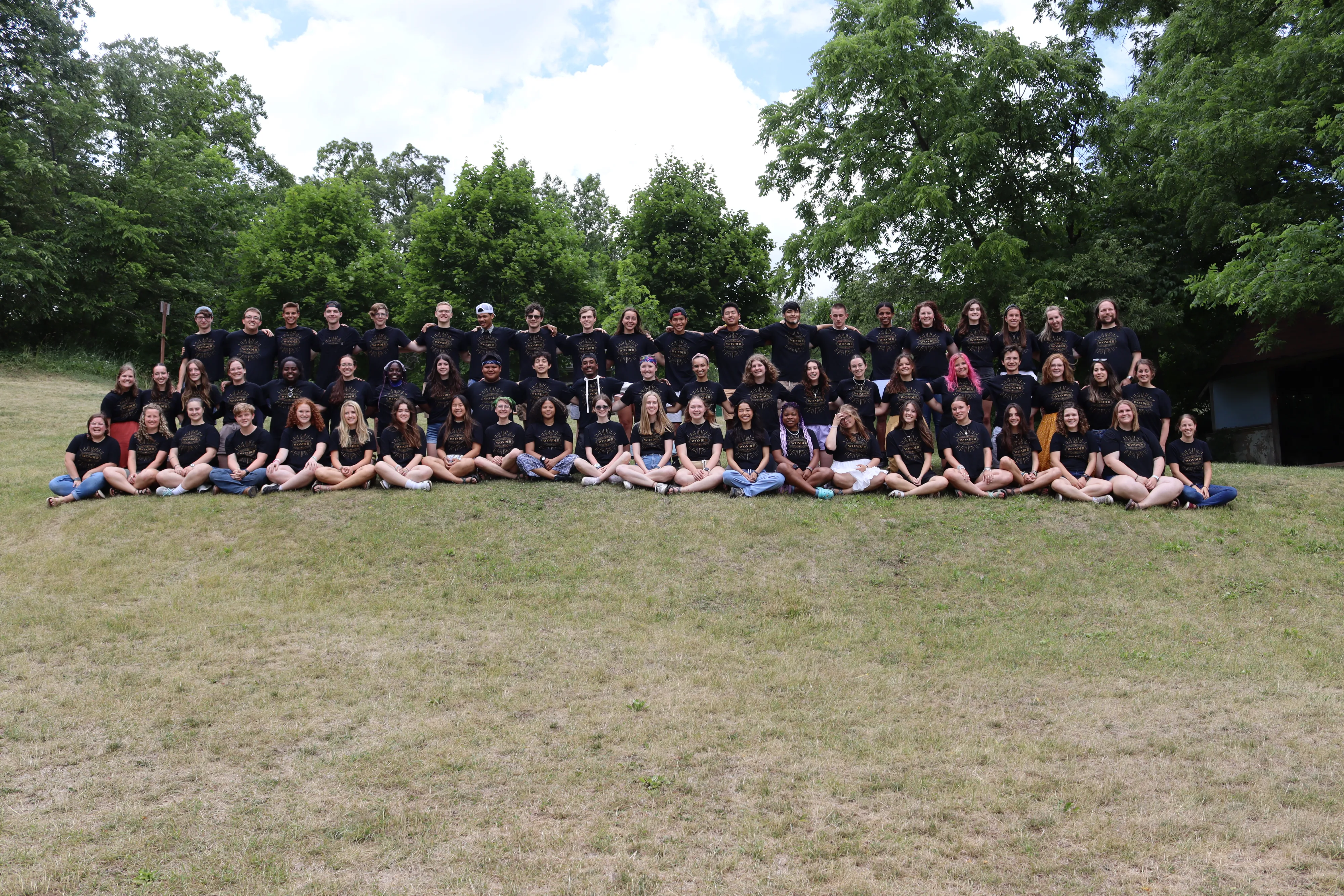 Summer Staff
Applications Open!
Work at camp.
Every summer, Covenant Harbor hires a diverse team of summer staff from across the country. Our goal of serving together at summer camp is to love kids and share Jesus. Serving on summer staff might just be the best decision you make, are you ready for a memorable summer?
Apply Today!
General Information
Qualifications
Qualifications: Covenant Harbor is looking for individuals who want to love kids and share Jesus. In addition to having a committed, personal relationship with Jesus Christ, we also require: 
Applicants to be at least 16 years of age by the start of their employment 

Seeking to strengthen and grow their own relationship with Jesus Christ 

Encourage and contribute to a healthy staff community and team  

Be able and willing to serve in and outside their job description 

Willing to work hard, be flexible and responsible at all times 
Start and End Dates
Start and end dates vary based on the applicant. These will be decided and communicated between the hiring team and the applicant on an individual basis. Summer camp begins June 9 and completes on August 7. Staff training is for about 10 days prior to the first day of camp depending on the position. 
Start Dates: Staff training is required for all staff members. Some exceptions can be made upon request. 

Leadership Staff training begins May 20. 

Operations Staff training begins May 24. 

Program Staff training begins May 29. 

End Dates: 

Although it is not required to stay the entire season, a minimum requirement for employment is six weeks long, not including staff training. A full summer is nine weeks but all summer staff are able to request time off throughout the summer. (All time off is approved by the Program Team prior to the start of employment.) 

Summer staff employment ends August 9.

Hiring priority will be given to staff who are able to commit to six or more weeks of employment. 
Compensation
Salary ranges from typically $1,500-$3,000, depending on position, how many previous summers the applicant has worked, and others. All lodging and meals are provided for. 
Base Pay Structure: For operations and program staff, the initial base pay begins at $230 per week for the first four weeks of summer including staff training. After week four and beginning the week of July 7, the base pay increases to $245 for the final five weeks of summer camp. For leadership staff, the initial base pay is $265 for the entire summer including staff training. 
Operations and Program Base Pay: 
Staff Training: $230 per week

Weeks 1-4 (June 9-July 5): $230 per week

Weeks 5-9 (July 7-August 9): $245 per week 
Leadereship Base Pay: 
Staff Training and Weeks 1-9 (June 9-August 9): $265 per week
Weekly Incentives: For every week beyond 6 weeks, a weekly pay increase will be paid retroactively on the final paycheck for every week worked during the summer.  
Additional weeks of employment beyond the minimum requirement of 6:
7th additional week worked: $20 weekly pay increase (Total bonus paid: $20 x 7 weeks = $140)
8th additional week worked: $25 weekly pay increase (Total bonus paid: $25 x 8 weeks = $200)
9th additional week worked: $30 weekly pay increase (Total bonus paid: $30 x 9 weeks = $270)
Early Application Bonus: Submit an application by January 1 and accept a position at Covenant Harbor and receive a $500 signing bonus. (Please note that the early application bonus is only applicable to staff who work the minimum number of weeks worked.) 
Need-Based Wage Grant: Apply for a need-based grant to help supplement your salary if the regular compensation impedes you from working at camp because of financial strain. Funds are limited and will be issued on a first-come, first-served basis. Grant is based on the number of weeks served. Grant applications are open. Grant applications and employment applications are each processed by a separate team. Grant applications are confidential and have no bearing on hiring decisions. You can submit an application here. 
Referral Bonus: If you refer a new staff member who accepts a job offer from Covenant Harbor and works a minimum of 6 weeks, you will receive a bonus of $300. No limits on referrals! 
Returning Staff Bonus: For previous staff members who submit an application and accept a position by Oct. 31, you will receive a $500 bonus. This bonus is in tandem with the early application bonus making a total bonus of $1,000! Additionally, returning staff get an additional $10 per week, per year, added to summer salary based on how many previous summers worked. Maximum of $30 per week. 
North Park University Grant: Prospective and current North Park University students are eligible to receive up to $2,000 in a camp grant from North Park for the following academic year after serving at Covenant Harbor for the summer. See more details here! 
Lifeguard Dual Employment: Receive a $100 bonus for becoming a Covenant Harbor lifeguard. This is a bonus for anyone who receives lifeguard certification training from Covenant Harbor and serves in a different summer position. 
How to Apply
Ready to apply for summer staff at Covenant Harbor? Follow these next steps to ensure that you're on your way to the best summer of your life: 
Complete Application and Submit Online  

New Staff Applicants: If you have not worked on summer staff at Covenant Harbor in the past two summers (2022-2023), contact four references that will be asked to complete an online form on your behalf. Your references must be from the following categories: professional, spiritual, character, academic, or family member (who you are not directly living with). Each reference should be from a different category (no substitutions without prior arrangements). 

Returning Staff Applicants: If you worked at Covenant Harbor in the past three years, contact one reference to be contacted to complete an online form on your behalf. Please submit a new reference that you have not previously used. 

*Please no current employees of Covenant Harbor. 

A Confirmation Email to be sent from

summerstaff@covenantharbor.org

within 48 hours.

If you're under 18, have your parents or guardian fill out a signature form. Review the under 18 policies and procedures here.  

Use the link in the confirmation email to schedule your interview with our hiring team within 7 days.  

Interview with the team via video chat. 

Our hiring team will email your references in the meantime. 

Interview with hiring team members.  

Hiring decisions will be made by the team and email sent to you. If you are hired, you will be sent your employment agreement to sign and return within two weeks. Look over start and end dates, and any time-off requests to confirm that they are accurate. 
Your summer could look like this!
Job Descriptions
Leadership Staff
Leadership: Serve as the leader of one of the many areas of camp. The leadership team is responsible for planning and implementing the summer programs and supervising a team of peers on summer staff. 
Operations Staff
Operations: Covenant Harbor is known for managing multiple summer programs smoothly, efficiently, and safely. The operations team is responsible for the wide variety of activities and functions of summer camp including things such as arts and crafts, big games, specialty activities like target sports, skate park, waterfront, worship and office administration. 
Activity Team

Media Team

Admin Team

Lifeguarding Team
Program Staff
Programs: Covenant Harbor has programs for children of all ages. As a part of the program team, you'll have the opportunity to work with a variety of campers of all ages from diverse backgrounds. The program team is responsible for caring and supervising campers in the Day Camp program for 1st-6th graders, the overnight Kishwauketoe, for 2nd-4th graders, and Pier 30, 4th-9th grade, overnight programs. 
Program majors consist of: 
*Program placement will be determined for each week and staff members will spend a majority of the summer in their major program placement but will rotate throughout the summer at the discretion of the Program Team.  
Internships
Make your summer job an internship. All summer positions have the ability to fulfill college internship requirements.  Internships can be available for a wide variety of college majors. Let us work with you and your college or university to help your internship meet all the requirements. 
Frequently Asked Questions
What is the goal of summer camp?
The goal of the Youth Ministry team is to love kids and share Jesus.

We aim to accomplish this goal through the following:  

L

et them be kids 

O

pen to who they are 

V

ery focused on health and safety

E

arn the right to be heard 

S

eek Jesus ourselves

H

ealthy relationships 

A

ble and Willing

R

ely on the Gospel

E

ncourage opportunities for growth
What is your goal for summer staff at Covenant Harbor?
Summer Staff are an integral part of making camp possible. Our philosophy for summer staff is: 
Equip

– Being a part of summer staff is hard work, but it is our priority every year to train, uplift and encourage staff for the job they are called to do. Staff will learn significant skills that not only will equip them for the summer but also for whatever career or school comes next for them. 

Share

– Every staff member, counselors or not, get the opportunity to love kids, share the gospel with them and encourage their growth in Christ. This investment in serving others inevitably leads to personal spiritual growth. The spiritual growth experienced by staff members just by learning how to communicate simple Gospel truths to campers is profound and will impact the rest of the faith stories.     

Serve

– Staff are called to a big position at camp. They are placed here on purpose because the Lord trusts them. With big responsibilities staff are asked to serve not only the campers here but also wherever the Lord leads next in the world and their lives. Staff learn first hand what Jesus meant when he said that he came to serve not to be served. 
Why serve at Covenant Harbor as opposed to getting another summer job?
Make friendships that will last a lifetime, develop leadership skills, gain ministry experience, grow emotionally and spiritually, get to know kids and build relationships with them. It's your job to roast marshmallows, tell and listen to stories, play outside, sing songs, play games, and talk about Jesus. What a better way to spend your summer! 
Who is Covenant Harbor?
Covenant Harbor sits on over 1,100 feet of frontage on the shores of beautiful Geneva Lake. What makes our camp unique is that we are located just about 5 to 10 minutes from downtown Lake Geneva and many stores like Walmart and Target. Tourists flock from all over the place to spend time in the area during the summer, and Covenant Harbor has an all-access pass to enjoy all the best parts of lake life right here at camp. 
Who does Covenant Harbor serve?
Covenant Harbor is positioned within a shore distance of the metro areas of Chicago, Milwaukee, and Madison. This means that kids from all sorts of backgrounds are basically in the camp's backyard. They are joyfully invited to come together on the common ground of camp. In a typical summer, Covenant Harbor served over 2,500 kids through four programs that run simultaneously throughout the summer, with ample opportunities for siblings and friends to come to camp together, even if they aren't the same age. Pier 30 is Covenant Harbor's largest program, hosting up to 200 overnight campers in 4th-6th grade or 7th-9th grade each week. The Day Camp program welcomes about 85 campers weekly and serves both local and visiting kids entering 1st-6th grades. Kishwauketoe, an intentionally small elementary overnight program, serves around 48 campers each week. Alpha, the high school service and discipleship program, welcomes just under 30 campers for around 10 nights at a time. You can learn more about Covenant Harbor summer camp program on our website here. 
What if I cannot work the entire summer?
All positions have the option to take time off. We want to work with you to make working at camp possible. We ask that all staff work a minimum of 6 weeks of camp. Leadership positions are the only positions that require a longer summer commitment. There are plenty of options to make working at camp accessible to you and your summer schedule. Just reach out and we would be happy to talk through personal options for you! 
How old do I have to be?
All staff and volunteers must be at least 16 years old by the time they arrive at camp. Due to Wisconsin labor laws, there are no exceptions. 
Is there a deadline to apply?
We continue to hire until all of our positions have been filled, so there is no official deadline to apply. However, many of our positions do fill up quickly, so we would recommend applying as soon as you can. 
How should I prepare for the interview?
We're excited to meet you, and want to make sure you feel as prepared and confident as possible. Here are a few things you should know:
You will schedule a 40-60 minute interview with 1-2 people from our hiring team through an online link within two weeks of applying. We conduct video chat interviews via google meets, and will email you a confirmation email once you have scheduled an interview with a link that will allow you to join the call at the scheduled time.

1-2 people from our hiring team will be conducting your interview.

Find a quiet, well-lit place, free from possible interruptions. We want to be able to see and hear you well, since we may not have the opportunity to meet in-person before making a hiring decision.

Ensure your internet connection is stable and that your computer's audio and webcam are working. With that said, we realize that technology isn't perfect, and will accommodate as needed.

Dress however you would dress for an in-person interview. Remember: video chat interviews are more limiting than in-person interviews, so take every opportunity you can to show us who you are and why you might be a good fit for a position at Covenant Harbor.
Are lodging and meals provided?
Yes! All lodging and meals are provided for. We don't have your typical 'camp food' either. Our amazing food service team does an incredible job of keeping things fresh, including accommodating a variety of special dietary needs. Please contact us with any questions about specific dietary needs you might have. 
What's a typical day of working at Covenant Harbor?
While the exact duties and schedule of summer staff members depend on their position, all Covenant Harbor summer staff spend most of their time working hard, being with kids, and making the most of the opportunities that camp affords. Most staff are outside for much of the day, leading activities, facilitating discussions to help campers process Bible lessons, guiding kids as they navigate friendships, and making camp a special experience for campers. There are many silly, fun moments and many sincere moments in each day, and God is present and working in all of them.
Where do I live during the summer?
All summer staff live onsite at Covenant Harbor during the weeks that they are serving, and are housed in shared cabins with other staff of the same gender. Members of the counseling team live in cabins, with campers, the weeks they are working in the overnight programs. Covenant Harbor is located in the beautiful city of Lake Geneva, Wisconsin, which has all of the amenities for staff to get what they need throughout the summer.
Can I do laundry while I'm at camp?
We have multiple washers and dryers available around camp that are available for shared but totally free use. You are only responsible for your own detergent. 
What do I do to prepare?
You must prepare for camp by nourishing yourself spiritually, physically, and emotionally. Spend time in prayer. Read your Bible. Go to church. Join a small group. Eat healthy foods. Take walks. Get some sleep. Talk to a trusted person. Write in a journal once in a while. Spend time getting into the habits that help you to feel like yourself. 
Will I have access to technology while I'm there?
We want camp to be a place that is set apart and different from the rest of our daily normal life and routine. We also want camp to be a place away from distractions which means limited technology usages. However, we do use some limited technology for parts of camp communication. Wi-Fi is available to staff throughout camp. We expect staff to use technology sparingly and responsibly.
What should I bring with me?
If you are hired for summer staff, you will get a full packing list via email.
How could working at camp help me get another job later on?
Working at camp can help prepare you for a career in a variety of fields. Check out this blog post in which a hiring professional shares about the skills he's looking for that are often fostered at camp, and this document from the American Camping Association that suggests some key ways to represent your camp experience on your resume.
Can I get volunteer hours for serving at camp?
Sure! Covenant Harbor staff would be happy to provide a certification letter for individuals who volunteer at camp.
Am I able to continue my regular counseling/therapy sessions while at camp?
Absolutely! We know that the healthier our staff are, the better experience campers will have. We will work with you to figure out how to maintain your regular sessions. There are key times of the day that would be simpler or more difficult to have a virtual meeting with your counselor or therapist. Be sure to tell a member of our team after signing your employment agreement, so arrangements can be made prior to your arrival.
Questions we didn't answer?
Contact Us: If you have other questions we didn't answer here, let us know and we'll get right back to you.