A Brand New Way to Maple Fest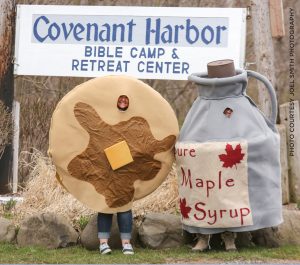 Around this time last year, we wrote a post about one of our favorite days of the year here at Covenant Harbor – and that is Maple Fest! Maple Fest has historically been our annual open house fundraising event where we offer an all-you-care-to-eat pancake breakfast, maple tours and a variety of indoor and outdoor family friendly activities at camp. All proceeds benefit scholarships for local children who attend our summer Day Camp program. Unfortunately, in 2020, we were unable to welcome guests onsite to enjoy Maple Fest and shifted our event to become completely virtual.
This year, we are excited to bring you one of our favorite events in a brand new way! You are invited to join us for Maple Fest on Sunday, April 18, for an outdoor market experience. It's not quite like the Maple Fest you've known over the years…but we're getting closer! We look forward to sharing more event specific details with you very soon, but hope you will save April 18 on your calendars now. Even though Maple Fest will be unique once again, just like every other year, we look forward to seeing you at camp and raising money for Day Camp scholarships! 
Day Camp Impact
Last summer, we were able to welcome more than 800 campers over six weeks of our Day Camp program during the pandemic. Each day of safety and health was a gift and we were  incredibly grateful for the  opportunity to facilitate a sense of normalcy for campers, their families and our staff.  
As one Day Camp mom shared the following at the end of her kids' week at camp, "Seeing how happy my kids were after having limited social interactions these last few months – this week at camp has given them such happiness. It was also great to see my two kids bond this week as well."  
This pandemic winter, as summer 2021 camp registrations continue to come through, we are more aware than ever of the impact that a camp experience can have on kids' lives. We also believe that a family's financial situation should not prevent them from the opportunity to attend summer camp. We know that 2020 has brought new challenges on families and that is why raising these important scholarship dollars matters so much this year. 
Every year, our generous Covenant Harbor community raises thousands of dollars for camper scholarships to offset the cost of camp for families. All proceeds from our annual Maple Fest event go towards funding summer Day Camp scholarships for kids. When you attend Maple Fest, you make future Day Camp experiences possible for kids and support our mission of loving kids and sharing Jesus.