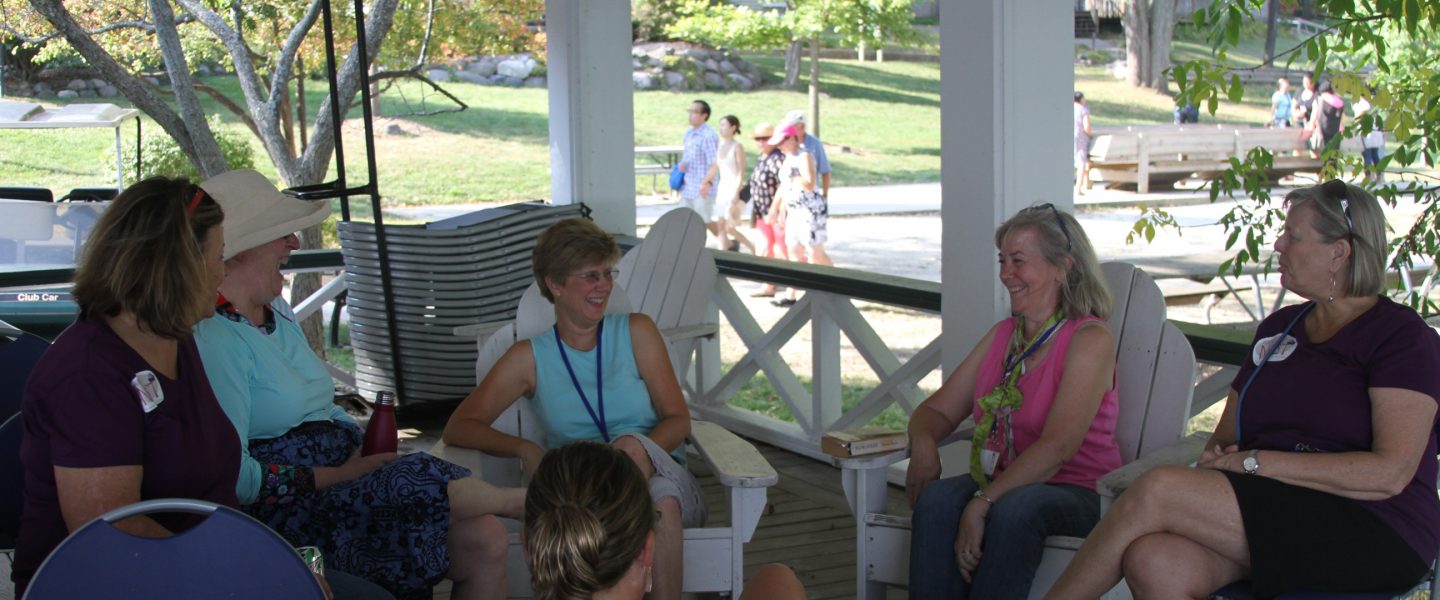 Fall Fellowship Women's Retreat
Be refreshed and encouraged in your faith together with your sisters in Christ at camp. Set aside the weekend and invite a friend to join you at Fall Fellowship!
During these times we have had to turn inward and weigh heavily the pros and cons of hosting our Annual Fall Retreat this year. Our hearts are heavy, yet remain full of compassion. Because of the uncertainty of the duration of this pandemic, the Women's Ministry of the Central Conference has decided that it would respectfully honor the safety of each and every one of you, to postpone our annual Fall Fellowship until 2021.
The new dates are September 10-12, 2021.
This has always been a highlight of the year for Covenant Harbor. We sad to miss this opportunity to gather together, but we are excited to see you all here together again next year!
If you have additional questions regarding Covenant Harbor's health and safety policies in regards to COVID-19  or are interested in our new reimagined 2020 Summer Programs, please see additional information here.
Women — this retreat is designed for you—it is your turn to enjoy all that Covenant Harbor has to offer!
The Fall Fellowship Women's Retreat is a fun-filled getaway for women to come to know, or to grow in their relationship with the Lord. Through joyful worship, engaging workshops, and rejuvenating fellowship, women make lasting connections with each other and with their heavenly father.
A ministry of the Evangelical Covenant Church Central Conference Women Ministries, Fall Fellowship is a retreat for women eighteen years and older. It's an opportunity to step away from everyday demands for a time of refreshment and renewal.
Check out all the important information below!
Pricing & Registration
Fees are per person and include meals and lodging from Friday afternoon through Sunday brunch. Friday supper is included, from 6pm – 7:30pm with program beginning at 8pm. Check-in begins at 5pm.
*Pricing to be announced.
Geneva Bay Center*: Hotel-style with elevators. Each four-person room has a private bath. Bedding and towels are provided. Priority placement in GBC will be for those with identified special needs.
Engebretson and Guest House*: Dormitory style with bunk beds and attached bathrooms. Note: Bring your own bedding and towels.
Hilltop House, Triplets, and Lodge: Dormitory style with bunk beds and attached bathrooms. Note: Bring your own bedding and towels.
Commuter: Includes all programs and meals.
*These two buildings are handicap accessible.
Registration Information
Registration will open summer 2021. More information coming soon.
Morning Workshops
Workshop information coming soon.
Afternoon Workshops
Workshop information coming soon.
Promotional Materials
Promotional materials coming soon.