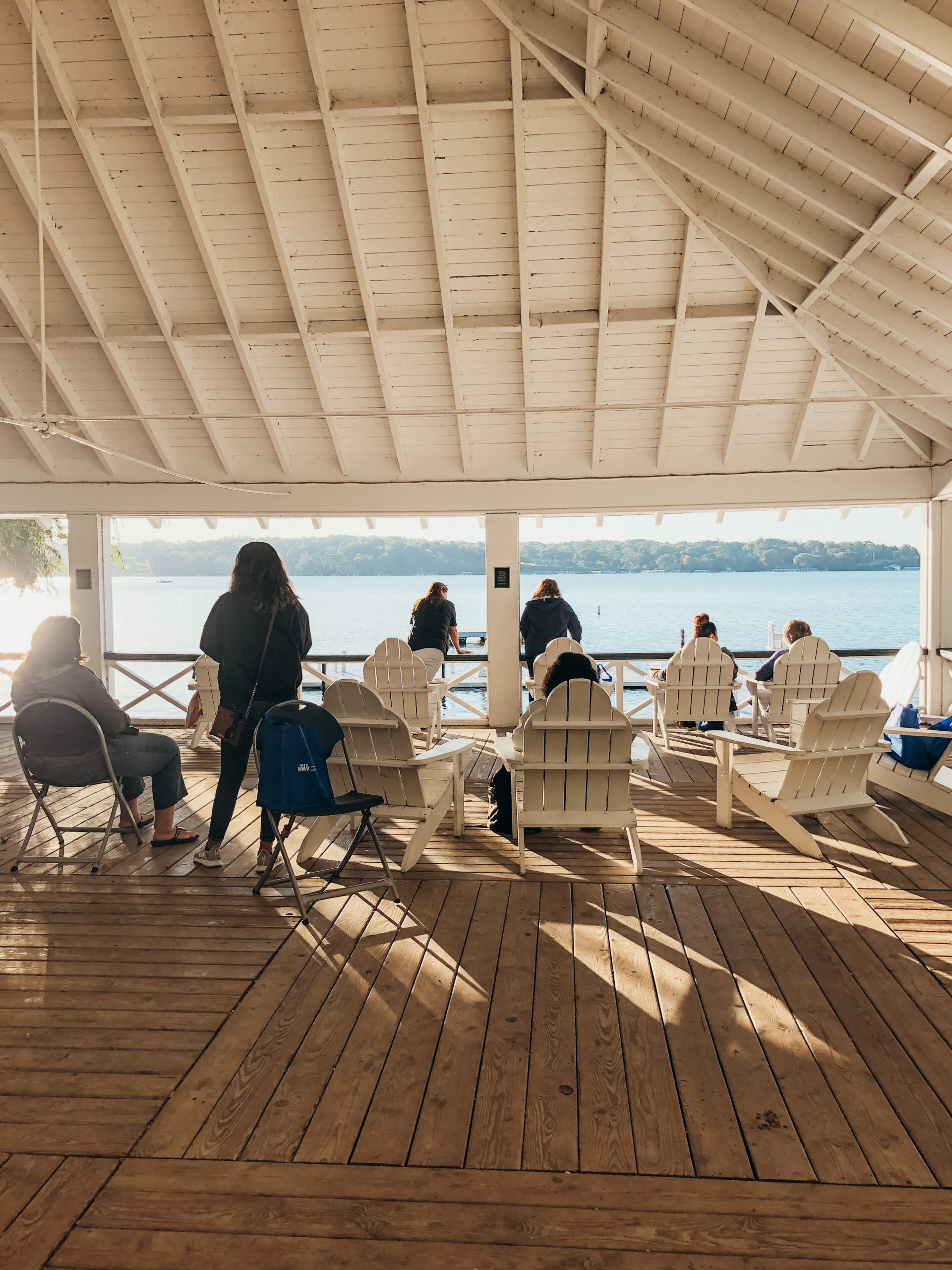 Fall Fellowship Women's Retreat
Come be refreshed and encouraged in your faith together with your sisters in Christ at beautiful Covenant Harbor on the shores of Lake Geneva. Set aside this weekend and invite a friend to join you at Fall Fellowship.
Women — this retreat is designed for you—it is your turn to enjoy all that Covenant Harbor has to offer!
The Fall Fellowship Women's Retreat is a fun-filled getaway for women to come to know, or to grow in their relationship with the Lord. Through joyful worship, engaging workshops, and rejuvenating fellowship, women make lasting connections with each other and with their heavenly father. A ministry of the Evangelical Covenant Church Central Conference Women Ministries, Fall Fellowship is a retreat for women eighteen years and older. It's an opportunity to step away from everyday demands for a time of refreshment and renewal.
2022 Health and Safety
We are doing our best to incorporate the CDC, State, Local and other guidelines into our programming. We are continually refining our practices, placing an emphasis on safety and responsibility, while at the same time recognizing the need for fun and to be together socially. Continue reading on Covenant Harbor's current Health and Safety page.
2022 Health and Safety Announcements
Save the date for September 16-18, 2022
Speaker
Jennifer Shaw
Jennifer Shaw is a Telly Award winning speaker, author, singer, songwriter and five-time Top 40 Billboard artist. Her ministry has been featured by Focus on the Family, Insight for Living, FamilyLife Today, Autism Speaks, Joni and Friends, and many more. Her book, Life Not Typical: How Special Needs Parenting Changed My Faith and My Song, has brought national attention to the issue of Sensory Processing Disorder.
After being classically trained as an opera singer at the prestigious Manhattan School of Music, Jennifer became a professor of music at Cedarville University before she felt led into her current role in contemporary music. Her testimony includes tragedy and triumph, being both an adoptive parent, and the parent of a special needs child, and losing her father to Lou Gehrig's disease. With the release of her fifth album, Nothing to Fear, her songs offer hope in any circumstance and also reflect her experiences on the mission field in Asia, Africa, Central America and the UK.
Pricing & Registration
Fees are per person and include meals and lodging from Friday afternoon through Sunday brunch. Friday supper is included, from 6pm – 7:30pm with program beginning at 8pm. Check-in begins at 5pm.
Geneva Bay Center*: $246 – Hotel-style with elevators. Each four-person room has a private bath. Bedding and towels are provided. Priority placement in GBC will be for those with identified special needs.
Engebretson and Lower Carriage House*: $215 – Dormitory style with bunk beds and attached bathrooms. Note: Bring your own bedding and towels.
Hilltop House and Lodge: $194 – Dormitory style with bunk beds and attached bathrooms. Note: Bring your own bedding and towels.
Kishwauketoe and Guest House: $184 – Dormitory style with bunk beds and attached bathrooms. Note: Bring your own bedding and towels.
Maple Commons: $147 – An economical option for "Roughing it." Dormitory style with a bath house down the path, space heaters available. Note: Bring your own bedding and towels.
Commuter: $137 – Includes all programs and meals.
*These two buildings are handicap accessible.
Registration Information
Registration is now open.
All registrations will be completed online, with an initial non-refundable $50 deposit. Covenant Harbor staff will review registrations and accommodation requests. Covenant Harbor will confirm your accommodations and inform you of the balance due.
Registration is to be paid in full by August 19, 2022. Any final balance is due at that time. Refunds, less the $50 deposit, are given until September 1.
Morning Workshops
I Can Do One Thing: My Journey to Reducing Waste – Nikki Andrews
Make and Take workshop! Join me as I share about how I worship God through reducing the
only landfill I can control – my garbage can. Learn about the 5 R's of reducing waste and even
start your journey by making a product you can take home!
Nikki Andrews is a wife, mom of 2, Kindergarten Aide, and owner of Sankoty Sustainables, a
reduce waste retail store located in Central IL.
Cultivating Your Leadership – Beth Fredrickson
Women are leaders. We lead people from children to the elderly, men and women, from
classrooms to hospital rooms to board rooms and beyond. We lead businesses, schools,
nonprofit organizations, volunteers, congregations and more. Whatever your leadership role,
your continuous growth as a person and as a leader are critical to your own well-being, to the
well-being of those you lead and to a flourishing mission. In this workshop, we will share
stories, ask questions and explore some specific ways to pay attention to our leadership,
cultivating our holistic growth so we may serve a greater good.
Beth Fredrickson serves Central Conference churches and Covenant Harbor and Covenant Point
Bible camps as the executive director of Harbor Point Ministries. She is grateful to have been
mentored by women leaders who stepped up and stepped out, embracing God's call to lead
with heart and mind.
Your Money Story – Karen Palmberg
Join her as she highlighting how we each view money and how we can view it through God's
eyes and experience real freedom. Her passion is helping people get their finances and their
financial lives in order so they are free to serve God in any way He calls them. 
Karen Palmberg works as a Financial Services Representative for Covenant Trust Company.  She began working with Covenant Trust in 2013 while living in Turlock, CA and now serves in the
Central conference, officing at the Holmstad Covenant Living campus, as well as serving at
North Park Seminary as financial coach for seminary students.
You can't take a child to a place you've never been – Sarah Winter
This work shop will take you back to your authentic connection to God. As we guide our
children to be disciples of Christ, we must remember our own stories that define who we are
and how we live our lives. Through conversation and Spiritual Practices we will be reminded of
the uniquely beautiful way that God has created and provided for each of us so that we can
shepherd and empower our children and our families on their spiritual journeys.
Sarah Winter has been serving children and families in ministry for over 10 years. She is a
graduate of NorthPark Theological Seminary and is pursuing her certificate in Spiritual Direction.
Her approach to ministry is relationship-based; it is through our community that our spiritual life
is enhanced and our relationship with Christ is deepened. She lives in Hoffman Estates with her
husband and three kids and loves to read, drink Chai Tea Lattes and be outside with her friends
and family.
Haiti Missionary – Karina Paul
My husband taught me that it doesn't cost anything to dream big for God. So as a young married couple, we had dreams to serve others. In 2011, after getting married, we decided to start a ministry in the community of LaVictoria, Haiti, the place my husband grew up in. We started our non-for-profit organization called Sustainable Action International. Come learn about the amazing things God has done through our dreams for him. 
Karina Paul – husband Evens, daughters Mayra (16), Abbey (7), Hannah (5), and my son Lulu (14) are Global Personnel in Haiti. They have been working in Haiti for over 10 years. They moved there permanently in 2018, but because of COVID, came back to the states for the past two years. They work specifically in community development in LaVictoria, Haiti. As a family, they love to eat mangos, read, and have people over at their house. Karina received her bachelor's degree in Elementary Education at North Park University in 2003, a master's degree in Teaching and Leadership from St. Xaviers University in 2015, and another master's degree in Educational Leadership from Concordia University in 2022. 
Camina Hacia Adelante con Propósito – Norma Ramos Supera las barreras que te impiden avanzar
en un momento como este.
Norma Ramos es Pastora Asociada en la Iglesia del Pacto Peniel (Chicago, IL). Ella ha servido
en la Conferencia Central como Asistente Administrativa y en la denominación como Gerente
de Servicios Ministerial de Operaciones. Ella se ha desempeñado como Tesorera de la Iglesia
(Concilio), Grupo de Alabanza y Adoración, Ministerio de Niños y Jóvenes y Ministerio de
Damas en su iglesia local desde 1998.
Afternoon Workshops
Supporting Families Experiencing Special Needs and Disability – Jennifer Shaw
Did you know that SPD (Sensory Processing Disorder) affects at least 1 in 20 school-aged
children? Or that 1 in 5 households in America have a special needs child? Supporting and
encouraging families dealing with these stressors can be a major area of ministry for many
churches, and yet, most families dealing with special needs or disability say they feel alone.
Come learn some of the very practical ways these families can be supported by individuals,
educators, and our churches. And if your family is affected, come and connect with others who
may be dealing with similar situations – you are not alone!
Jennifer Shaw is mom to children with both medical and spectrum needs. The author of "Life
Not Typical: How Special Needs Parenting Changed My Faith and My Song" and the best-selling
children's book, "Dumplings Mean Family" she is also a speaker, singer, and songwriter, and
the keynote for our retreat this weekend.
Gospel Slide – Tracey Wright
Your body is a temple of God. How are you taking care of God's amazing temple?
Tracey Wright is a Bi-Vocational minister at The Rock Covenant Church where her husband, Jerry Wright is Pastor.  She has 9 children and 7 grandchildren.  She is a teacher who works at Aurora Christian School in Aurora, Illinois.  She loves the Lord and has committed her life to serve Him, and His people.
The Joy of Financial Discipline – Karen Palmberg
How to put things in place so God can "spend" you. A deeper look into finances.
Karen Palmberg works as a Financial Services Representative for Covenant Trust Company.  She
began working with Covenant Trust in 2013 while living in Turlock, CA and now serves in the
Central conference, officing at the Holmstad Covenant Living campus, as well as serving at
North Park Seminary as financial coach for seminary students.
There's An "App" For That! – Chef Stacey Conway
Want to make a splash at your next social gathering without working up a sweat? Well, no
matter what time of year it is, Chef Stacy has "an app for that"! See how easy it is to whip up
delicious, go-to, in-season appetizers that are sure to impress year-round! We will be making –
and tasting! – four appetizers that align with in-season flavors and ingredients.
Chef Stacy Conway is the owner and founder of On The Menu – a personal chef meal service.
She is also a culinary instructor and chef assistant for Cook, Cork & Fork in Palatine, IL. While she
earned her Culinary Arts Fundamentals certification from Escoffier School of Culinary Arts in
February 2015, she continues to expand her culinary knowledge and love for cooking every day.
Cooking is her passion, and she seeks to share it with anyone and everyone!
El Tiempo Hace Sonido! – Drina Lizama
Plan diario
No es ningún secreto que para tener éxito con sus finanzas, debe planificar dónde gastará su dinero
antes de que acabe en su cuenta bancaria. Debemos tomar el mismo enfoque disciplinado de nuestro
tiempo. Después de todo, a diferencia del dinero, no podemos ganar más tiempo, por lo que
deberíamos estar aún más inclinados a presuponer nuestras horas que nuestro dinero.
Drina Lizama Por la gracia de Dios, sirvo como pastora en la iglesia plantación de la iglesia Luz de
Esperanza. Durante estos tres años he aprendido el valor del tiempo en la siembra y la cosecha.
A Crafty Craft – Charmaine Rabshaw
Charmaine Rabshaw is a talented lady who runs CovArts, a free children's art program in
Milwaukee. She is also a preschool teacher and attends Milwaukee Covenant Church.
Spiritual Direction Conversations
Available during free time. Spiritual Direction is a spiritual practice in which persons seek to deepen their awareness of God's presence and work in their life with the help of another. In these individual conversations, one is listened to deeply and what is shared is held in confidence. This can be helpful in times of transition, loss, seeking discernment and wondering where God is in the midst of one's life or situation.
50 minute sessions will be available and facilitated by trained spiritual directors.
$50 is payable with your registration.
Fall Fellowship T-Shirts
Fall Fellowship t-shirts will be available again this year to purchase before August 10th during your online registration.
T-Shirts will come in three color options; Black, Heather Orchid, and Sapphire. To see color options and size chart, click here.