Supporting the ministry. 
Thank you for sustaining camp ministry through these past 19 months. Today, camp is in a healthy place and we are moving forward. Before you begin your holiday celebrations, we want to share with you a few creative ways to make a contribution to Covenant Harbor before the year end. Every gift makes a difference, a little can go a long way. Thank you for every way you support camp. 
Set up a recurring monthly gift to the Covenant Harbor Fund! 
Consistent financial support through recurring giving helps us make wise stewardship decisions month to month.
To establish a recurring gift, please visit our online donation page on our website, and select the option to make your gift a recurring one, or sign in at the top of the page to create your own donor profile.
Additionally, from now until the end of December, MinistryLinq will match new monthly donors' first gift. Sign up to sustain camping ministry by being a monthly supporter and your first gift, no matter the amount, will be doubled! 
Give to Covenant Harbor while you online shop!

Covenant Harbor is registered to receive a percentage of your purchase as you shop for every day (and holiday) purchases through the ShopRaise app, Amazon Smile and minted. All proceeds received through these fundraising programs are directed to the Covenant Harbor Fund. Thank you – and have fun! 
ShopRaise
We know you love Covenant Harbor. This year, Covenant Harbor is using the new ShopRaise app, which gives a portion back to camp whenever you do your normal shopping online at over 1,000 stores like Macy's, Home Depot, Lowes, Costco, Sam's Club, PetSmart, Chewy and Walmart. 
Please help us support and promote our program by doing these 3 simple things:
Click the

ShopRaise

link to download the desktop app

Download the ShopRaise mobile app to shop by phone and share it with family and friends

Shop online through the desktop or mobile app to support the

Covenant Harbor Fund
AmazonSmile 
Generate donations to Covenant Harbor by shopping at AmazonSmile and Amazon will donate 0.5% of eligible purchases to Covenant Harbor—no fees, no extra cost. 
Minted
If you are planning to mail holiday cards this season, consider using minted! Covenant Harbor is registered with minted's Fundraising Program, which means you save 20% on your holiday card order when you use the discount code FUNDRAISECH. Minted will donate 15% of all orders placed using the promotional code to Covenant Harbor at the end of December.
Tax tips that help you and Covenant Harbor! 
As we approach the end of 2021, I want you to know of provisions within the tax law right now that are set to expire on December 31. Whether you itemize deductions or not on your annual tax return, there are temporary opportunities in the tax law encouraging you to give charitably to organizations of your choice. Please consult with your financial advisor and consider taking advantage of these opportunities. See the IRS full "tax tip" article for additional details. A quick summary is below: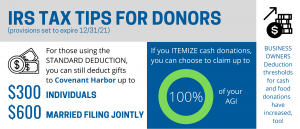 Finally, one more idea that is not in the IRS tax tip but is worth considering:
You might reduce your tax bill by making a distribution from your IRA to Covenant Harbor. This can satisfy the required annual minimum distribution for taxpayers age 72 or older, while not resulting in taxable income. It's effectively another way to qualify for a charitable tax benefit — whether you itemize on your taxes or not! 
Year-end Gift Reminders for 2021 Tax Year
Online gifts – must be time stamped 11:59 pm or earlier on Dec. 31, 2021  

Gifts by mail – checks must be dated and envelopes must be postmarked on or before Friday, Dec. 31, 2021, and mailed to Covenant Harbor at 1724 W. Main Street, Lake Geneva, WI 53147

For information about making a stock gift or bank wire transfer, please email Sarah Snow, Development Director.
With your help, we can all make a difference in sustaining Covenant Harbor's ministry during the end of the year!