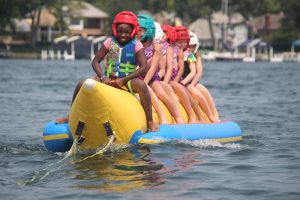 Summer camp 2021 is closer to the end than the beginning. With only two and a half more weeks of programming, we are reflecting on the goodness of God throughout this season. Every year, our goal is to simply love kids and share Jesus. From the silly games, banana boat rides and taco Tuesdays to cabin devos, session messages, and the songs we sing, we center all we do with that in mind.
This week we spoke with a few of our summer program team members about their experiences at camp this summer. God is doing incredible things in the lives of campers, and our program team is seeing a lot of those stories first hand. Here are a few of their stories.
'Creativity and enthusiasm'
"By God's grace, we have been able to run camp well and also effectively communicate the message of the gospel to the campers. I've seen God show up in the creativity of the program and the enthusiasm of the counselors. These thin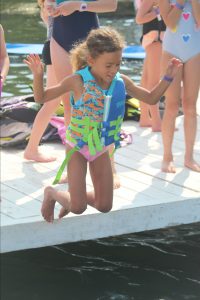 gs are so important for getting kids engaged and helping them feel welcome at camp. God has been providing for our needs and has guided us creatively so that we may communicate his word to these kids!"
Emily Anderson, Pier 30 Program Team
'Pursuing God'
"I've seen God show up in some really cool ways this summer! One week we had a camper who let us know that he had given up on God because of some tragic things that had happened at his school. He believed something was out there, but just wasn't sure it was God. However, throughout the week, we got to see this camper wrestle through big theological questions, seek to understand Scripture and search for God in the midst of life's hardships. It was incredible to see this camper pursuing God at such a pivotal moment in his life and in his faith."
Carista Ritchie, Alpha Counselor
'25 kids…begged for a Bible'
"I love the moments I get to share Jesus with the kids. This summer I was able to share a message with a few of the Day Camp kids. I told the campers about Jesus and how the Bible is a letter written for them. At the end, I offered Bibles to any kid who didn't have one. Immediately there was an uproar! Almost all 25 kids turned to their counselor and begged for a Bible. We gave out so many Bibles that day!"
Suzannah Praytor, Kishwauketoe Program Team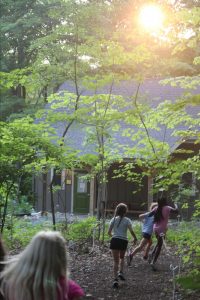 'They sing out to God'
"My favorite time of every single day is worship. Throughout each day, we get to do lots of camp songs that are often silly, goofy, and funny. But at the end of every day, when we get to strip the walls down and have simple worship with our Heavenly Father, that's when God really shows how much work he's doing in these kids' lives. They sing out to God with passion, as do I. Praising God through music is my favorite thing to do."
Hunter Johnson, Pier 30 Program Team
'God and camp impacted their lives'
"I have seen God work this summer in many ways. In 2019 I was an overnight counselor and many times we are just planting God's seeds and we don't get to see them grow or know what happened to the campers that we had. However, this year as an Alpha counselor I've seen many of my old campers come through this program. It's been incredible to see how God and camp have impacted their lives."
Kylie Hosick, Alpha Counselor
Join us in thanking God for all the ways campers are experiencing the Good News through relationships with Jesus this summer and all the ways staff are being encouraged, as well.
"After camp, I will be a better living example of God's handiwork. I will live my life in a way that reflects Jesus."  Summer Camper.