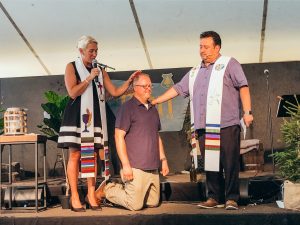 On August 8, Eric Anderson was officially installed as the executive director of Covenant Harbor. Eric has been serving as Covenant Harbor's executive director since June 1 of 2020, but due to the pandemic, the service of installation had to be postponed.
Anchor Covenant Church of Lake Geneva, Wisconsin, graciously hosted the service that included the Evangelical Covenant Church Central Conference Superintendent Danny Martinez, former Covenant Harbor Executive Director Pete Heintzelman, and members of the Harbor Point Ministries Board of Directors and Foundation for Covenant Harbor Board of Directors.
Pete Heintzelman began the service with various memories of Eric when he was a camper at Covenant Harbor and a member of the summer staff. "I recall conversations when Eric asked me what would be a good plan for him as he prepared to be a camp director," Pete said.
Every moment of the service reflected the good and intentional plan God had over Eric's life. Cherith Anderson, Eric's wife, shared how even when they were first dating, Eric knew his calling was to Christian camp ministry and even more, to serve at Covenant Harbor.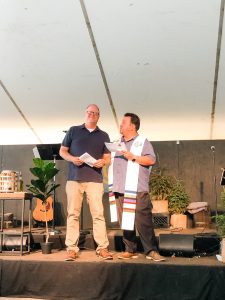 Eric humbly also shared with the congregation the honor he has to serve at Covenant Harbor, pouring into this ministry, and working alongside the staff. Eric cares deeply about Covenant Harbor. He has always felt called clearly and consistently to camp. When he was just 19 years old, Eric put together a box labeled, "Open when you are a camp director for ideas." Even all those years ago, Eric was strategically thinking about how to make Covenant Harbor the very best it could be.
Eric is in this role for such a time as this. Since its founding in 1947, Covenant Harbor has experienced many difficult times as well as joyful times. However, 2020 brought unique and shaky moments. In the first year that Eric has officially been serving as executive director, he has creatively adapted every part of camp to fit the ever-changing challenges that the ongoing pandemic presented. In fact, the state of Wisconsin agency that works with camps has asked Eric for help in establishing new policies and practices for camp operations during the pandemic.
Although Eric has been serving in this role for over a year, it was a joy to celebrate him on this day. We are extremely grateful that Eric has repeatedly said yes to the Lord's calling over his life to serve in camp ministry and at Covenant Harbor.