Hello!
With the world around us changing minute by minute, we understand the anxieties, fears and disappointments that may be circling around you and your family. On top of all that, as we all abide by the advice of our public officials and stay home for the time being, these feelings may  increase. That's why our team at Covenant Harbor wants to provide you and your families a little bit of camp at home. 
Starting today we are bringing you "Covenant Harbor at Home." Over the next few weeks, we will be posting here and on our Facebook and Instagram various videos, activities, games and so much more for you, your family and children. Keep checking back every day for new Covenant Harbor at Home videos and activities! 
We hope these short videos will be something you can do as a family and something that will help fill your days with hope! We are thankful that we worship a God whose perfect love casts out all fear! 
April 27, 2020
Good morning! Kathryn is talking about how God is our Shepherd and looking at Psalm 23. We also have a coloring page for you to be reminded that God cares for you! You can find the coloring page linked below.
God Cares for You Coloring Sheet 
April 24, 2020
Who's ready for a Friday sweet treat? We are! Try out this twist on a classic and mix it up however you want! Here's the basics you'll need. • An Apple • Spreads like PB, Almond Butter, or Chocolate • Toppings! Just core and cut the apple, remove excess moisture, add the stress and toppings, and enjoy! Send us a picture of how your treat turned out.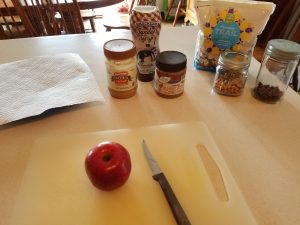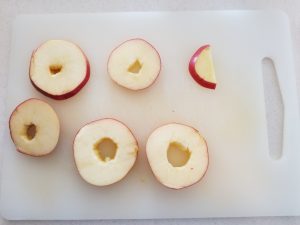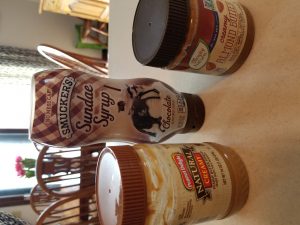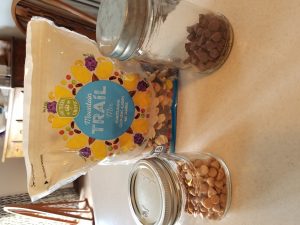 April 20, 2020
This morning one of our summer staff members for this year, Kristen, is sharing a good word with you. She is also teaching you how to make a brownie in a mug! So grab your bibles and a mug, and join us in reading from Romans 8:28.
April 17, 2020
Weekend Craft Time! You'll need:
•A stick (I found mine in my yard)
•Yarn (as many colors as you'd like)
•Scissors
Instructions:
1. Cut a piece of yarn as your example length. You'll use this one to measure and cut the rest of the pieces.
2. Fold a second piece of yarn in half. Slide the loop under the stick and then bring the bottom up around the stick and through the loop. Pull it tight.
3. Keep doing that with as many pieces of yarn as you'd like to add. You can make a pattern or go random.
4. Once you are done with the hanging, cut a piece or two of yarn to use as the holder. Tie both sides of yarn to the two sides of the stick.
5. Find a great place to display.
Other ideas:
•Instead of looping the yarn on, tie the yarn straight onto the stick
•Braid three pieces of different colored yarn used in the design to use as the holder
•Cut the bottom of the hanging to be an arrow or cheveron
•Use different length pieces of yarn throughout the whole design (no measuring needed!)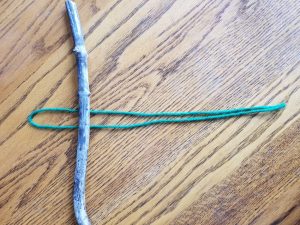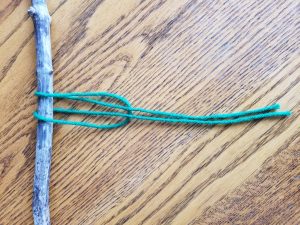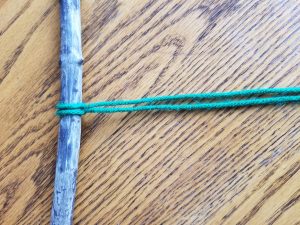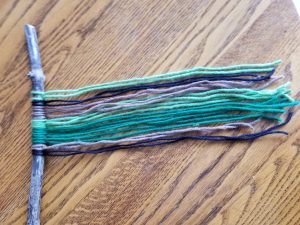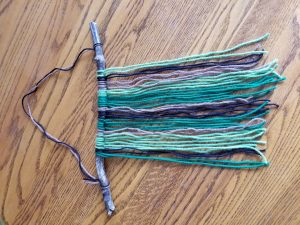 April 15, 2020
Our summer staff are sharing about "attributes of God" today. These are things we know to be true about God. We hope you'll be encouraged by all the ways we can describe God and let us know what attributes you have learned about too!
April 14, 2020
Who needs a pick me up this afternoon? Well, why don't you try out our chocolate dipped marshmallow treat? •Choc Mallows 1
Grab some marshmallows (we had giant ones!)
Melt chocolate chips in the microwave
Choose some toppings (we did sprinkles, chopped peanuts and crushed pretzels)
•Choc Mallows 2
Dip marshmallows in chocolate. We spooned and spread it around too.
•Choc Mallows 3
Decorate with toppings!
•Choc Mallows 4
For little ones it's easy just to stand the mallows up and let them sprinkle their toppings on
•Choc Mallows 5
Chill in the fridge for 10 minutes to let chocolate set
•Choc Mallows 6
Enjoy! Messy, sticky and delicious!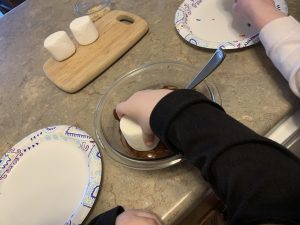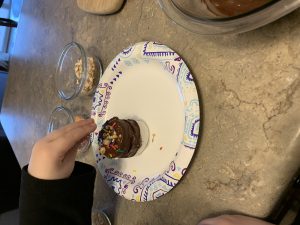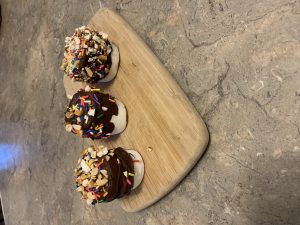 April 13, 2020
Have you mastered the Books of the Old Testament song we learned? Well, get ready because today we are learning the Books of the New Testament! Send us a video of you and your family singing these songs! Happy Monday!
April 6, 2020
With Easter this Sunday, we are in what the church calls "Holy Week." This is the week where we can start to prepare ourselves for all that Jesus did for us when he died on the cross and rose again. Today, we are going to read about Jesus' start in his ministry. If you were here for Winter Camp, you might remember this story with John the Baptist. Take a listen, and we can't wait to share some other Holy Week lessons with you later on. Be sure to let us know how you and your family are preparing for Easter!
April 3, 2020
Good morning and happy Friday! This morning we are diving into 1 Thessalonians. 5:15-18. This passage talks about four things, do good, rejoice, pray, and give thanks, that you can do today. Here are a few ideas on how to live out this verse in your life today. We hope you enjoy your weekend!
April 2, 2020
Today, as a staff we are reading the story of Jesus feeding the 5,000 from Matthew 14:15-21. We wanted to share that story with you too. We hope you'll take a few moments reflecting on this miracle!
April 1, 2020
Good morning! We hope you'll take a couple moments outside this morning with Peter to watch and listen to the birds by you. Let us know which ones you hear!
No-Bake Energy Bites
Ingredients:
1 Cup of Oats
2/3 Cup Peanut Butter
1/2 Cup Flax Seed
1/2 Cup of Chocolate Chips
2 Tbsp. Honey or Agave
Any extra add ins you feel!
Mix together and have fun! Enjoy!
March 31, 2020
This morning, Kathryn is diving into some of her favorite tools for learning about the Bible. If you liked learning these tips, make sure to check out Beth's video where she shared her favorite tips on March 27. We hope you will learn something new today!
DIY Bird Feeders
Put a few spoonfuls of coconut oil in a bowl and then microwave until it's liquid.
Scoop birdseed into the bowl. Enough that the coconut oil can coat it all.
Stir it all together!
Place cookie cutters on a pan and scoop in mixture. Press it down to inside the cutter to compact.
Stick straws through bird seed. (This is where you'll feed a string through to hang later.) Then put in a cool place fora couple hours. (We put ours in the garage overnight.)
Once solid, tie a piece of yarn or twine and then hang for your bird friends!
Feed the birds!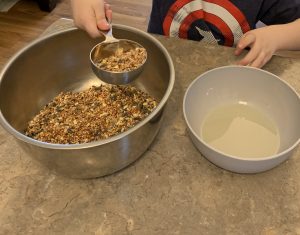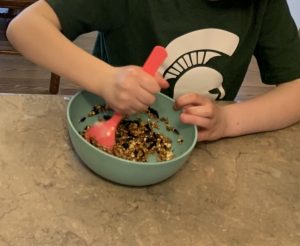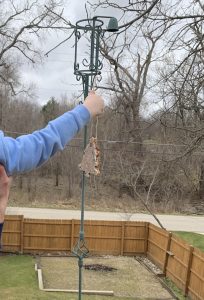 March 30, 2020
Happy Monday! We're starting off the week on the right foot with some of our summer staff reading Psalm 103. Read along with us and let us know your favorite Psalm too.
March 27, 2020
Today, join Beth, our Program Director, as she goes through some Bible basics. We hope you and your family will learn and discover something new in your Bible. Happy Friday everyone!
March 26, 2020
Spring mornings are our favorite! Join Peter for a couple moments in nature this morning reflecting on the beauty of creation around you.
DIY S'mores!
It was a little cloudy and rainy by us today. If you're feeling a little gloomy like the weather, why not bake an afternoon snack with us! Beth, our Program Director, walks you through exactly how to make a s'more in your microwave. No bone-fire needed! Make sure to let us know how yours turned out!
March 25, 2020
We hope you will take some time today and relax while Kathryn reads from one of our favorite books, The Jesus Storybook Bible! Do you have a favorite story from The Jesus Storybook Bible? Let us know, and we might read that one next!
March 24, 2020
Make Your Own Ice Luminary
"You are the light that gives light to the world. A city that is built on a hill cannot be hidden. And people don't hide a light under a bowl. They put it on a lampstand so the light shines for all the people in the house. In the same way, you should be a light for other people. Live so that they will see the good things you do and will praise your Father in Heaven." – Matthew 5:14-16
You are a light in this world! Today, we're sharing instructions on how to make your own ice luminary! You will need a balloon, water, a freezer, and a small candle or tea light. 
Fill a balloon with water then blow air in so it's half full of water. 

Place in the freezer. Either freeze solid or partway. (If it only freezes part way you can pour the extra water out and it will create a partial globe around the candle!) 

Cut the balloon and peel the pieces away. 

Enjoy your ice luminary!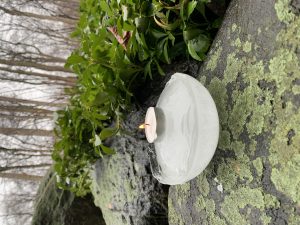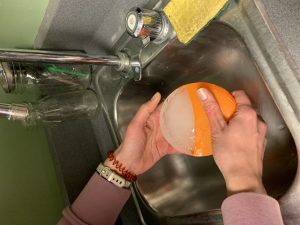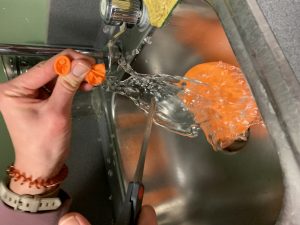 Spend a couple minutes this morning in the Word starting in Matthew 5:1. We invite you to make a list of where you see God working, what you are thankful for, and just the big and small ways you see God's light in the world around you. Share your lists with someone around you or with us! We are thankful for each and everyone of you today!
March 23, 2020
We hope you have a great weekend! This morning, we hope you will join Kathryn as we read about the Fruits of the Spirit. We hope you'll spend a couple moments today learning and growing closer to the Lord.
March 20, 2020
Today, we're sharing some of our staff's favorite Bible verses and things they've been learning about God! We would love to know what your favorite verses are or what you've been learning too. If you send us a video of you reading your favorite verse, you could be featured in a Covenant Harbor at Home. Make sure to tag us so we don't miss you! 
March 19, 2020
Today join our Director of Outdoor Education, Peter Hatlestad, on a brief nature walk to learn about the first flowers to spring up in the year. We hope you will take sometime this week to explore what has started growing in your own yards. Make sure to share some pictures with us too!
One of our favorite parts of camp are meal times! Not only do we love Taco Tuesdays, but we love the intentional community that is formed around a kitchen table. Our activity today is called, "Survey Someone." We hope you and your family will use these fun questions around the dinner table or over the phone with a friend to learn something new!
Find our "Survey Someone" sheet here! 
March 18, 2020
Spend some time with Kathryn this morning to learn a little more about prayer. Take a couple moments throughout the day and talk to God. Whether you do it on your own, with a friend or your family, use the guide below, pray the Lord's Prayer, or make up your own, God is always listening because he loves you! Have a great day! 
God you are ______.
You are ______. 
Thank you ________. 
Please help _______.
Forgive me for _______. 
Help me to forgive _______ just like you have forgiven me. 
Please guide me and keep me safe.Thank you for loving me. I love you too. Amen. 
March 17, 2020
Today, we hope you will join our Children's Ministry Coordinator Kathryn Spencer as she reads from Genesis 1 next to our beautiful Geneva Lake!