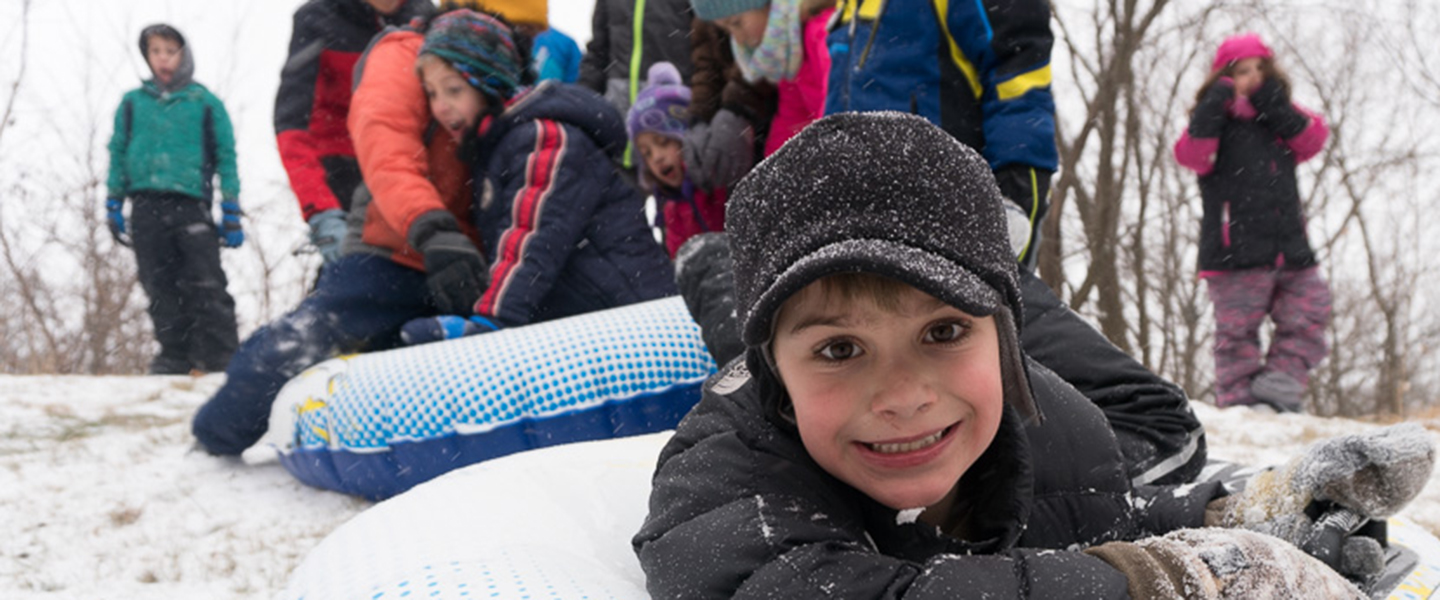 Winter Day Camp
Grades K - 6
Pick Your Dates
Winter Day Camp (Grades K-6)
Dates
Cost
Boy's Availability
Girl's Availability
Dec. 30-31 *Dates and Prices Based Off 2019
$39/Day
No
No
Winter Day Camp at Covenant Harbor is a great way for campers to enjoy camp during their Christmas break! Join us for one or both days of this program filled with activities such as the Giant Swing, sledding and fun winter games.
We bring back our amazing summer staff to ensure that your child not only has a safe and fun time, but also that your camper learns more about God! Our curriculum will help your camper learn about how much God loves them.
Each winter has a new theme and style to it so that campers can come back each year for a new experience!
Learn More About Winter Day Camp
Activities
Snow or no, there is plenty to do here at Covenant Harbor during Winter Day Camp! We'll have a blast with whatever the weather brings. Here are a few things that campers may get to choose from during their time at camp.
Outdoor Options (weather dependent)
Camp Games- Every year we provide fun (and different) camp games we've either invented or re-invented for your enjoyment.
Carpetball- This traditional camp game takes on a whole new set of challenges when snow and ice are introduced to it.
Ice Skating- We'll clear some ice down on the lake and you can show us your best Olympic gold medal moves. Or take this opportunity to learn how.
Archery- Campers age 7 and older can try this popular target sport led by our certified staff.
Front Lawn- During Free Time, campers can head to the Front Lawn to enjoy activities such as Gaga Ball, 9-Square, and more!
Tree Swing- Head up to the Tree House to try out the Tree Swing! It's a great activity for all ages.
Giant Swing- Our trained staff will harness you and a friend into our Giant Swing for a thrilling ride!
Sledding- Our summer mountain boarding hill makes for a great sledding hill in the winter time. If there's no snow, we'll switch back to classic mountain boarding.
Tubing- Hop on one of camp's tubes and fly down hill and through the woods on our tubing run. It's sure to get your heart racing.
Indoor Options
Arts and Crafts- A great way to bond with friends and create a token to remember your winter experience at camp.
Bounce Castle- You're never too old (or too young) to enjoy a bounce castle with a slide.
Camp Store- This is a favorite spot for many campers. Choose your favorite healthy snack, delicious treat, or Covenant Harbor souvenir to enjoy!
Game Room- Warm up at the indoor Game Room while you play some foosball, air hockey, or challenge your friends to a connect four game.
Open Gym- Take advantage of our basketball hoops or volleyball nets to enjoy some indoor physical activities.
Indoor Climbing Wall- Our indoor climbing wall can handle several harnessed climbers at a time and you don't even need to wear a coat.
Schedule
Arrival
Check-in will be from 8:30 AM to 9:00 AM. As you remain in your car, our staff will greet you as you arrive and direct you to drive-thru check-in.
Please allow a little extra time on your first day as campers will receive their team assignment, put spending money in their store account (if they didn't do it in advance), and drop off all medications with the student nurse.
Schedule
Each day of Winter Day Camp will be unique and activities will vary based on weather conditions, but here's an idea of what the days will look like:
8:30-9:00 Camper Check-in – Campers will arrive, drop off their stuff and enjoy crafts and get-to-know-you activities.
Morning:
Welcome Activity
Morning Session – Fun songs, Bible teaching and messy games, and small group debrief are age appropriate and fun for all kids.
Team Time – Campers will choose fun activities to participate in with their team.
Lunch
Afternoon:
Large Group Activity Time – Campers will enjoy a variety of adventures with other kids their own age.
Free Time – Campers choose their favorite activities run by our staff, and get a chance to visit the Camp Store, aka "The Canteen."
Closing Event – Every Winter Day camper will come together to end the day with an epic event.
4:00-4:30 Camper Pick-up
Departure
Pick-up will be in the same location between 4:00 PM and 4:30 PM each day.
Arrival or departure at any other time may cause disturbances to the camp program and is strongly discouraged. If a camper must leave during the day make sure to tell a staff member at Check-in. Administrative fees may apply for continuous disruptions. Campers may come and go only once per day.
Prior to Camp
What to Bring
To help you prepare to enjoy your time at Winter Day Camp, we've assembled a brief packing list. Since we hope to be outside a lot, we do ask that you pack for the weather. Campers will need warm outdoor clothes in order to participate in all the activities. We also suggest that you wear 'camp clothes' (that you don't mind getting a little wet/dirty) and label all items you bring with you, such as:
-Indoor athletic shoes
-Warm outdoor clothes: snow pants, hat, gloves, jacket, boots, extra socks
-Camp Store/Canteen Money: campers may want to bring $10-20 for drinks, healthy snacks or treats and camp merchandise (this can also be deposited in advance through our online registration)
What Not to Bring
Do not bring cell phones or any pets, electronic devices (including CD players, game systems, and MP3 players), personal sports equipment, firearms, weapons of any kind, fireworks, tobacco, alcohol or drugs.
| | |
| --- | --- |
| | ***Please Note that peanuts/tree nuts or peanuts/tree-nut products are not allowed. |
Registration
Registration is done online by clicking the blue "Register" button at the top left of this page. When registering, you must either pay in full or pay a non-refundable deposit. Non-refundable deposits are $10 per day. Full payment is due by 2 weeks before camp begins, and full payment is required if registering after 2 weeks prior to camp. A health form is also part of the online registration. After your registration is submitted, you will then receive an email with a statement confirming the days you registered for as well as more information about the camp.
Team Requests
It is great to invite your friends to come to camp with you, and we want to make it possible for your camper to be in a group with his/her friends. There is a spot on the registration form (Teammate Requests) where you can list the names of up to two other people your camper would like to be grouped with. Due to our desire to form a healthy group community, we will not put more than three campers that request each other together in one group. If your group is larger than three, campers will be separated in different groups based on first choice teammate requests. We can honor teammate requests as long as all campers register 5 days prior to the start of Winter Day Camp. In order to keep certain activities and teaching times age appropriate, we will be assigning teams with the age range of K-2 and 3-6.
Please be honest about your child's age and grade. Please contact us if you have any questions about programming or team requests for your child. If you misrepresent your age and/or grade level, we reserve the right to remove your child from a program.
Can I Register My Child With Special Needs?
We want as many children as possible to enjoy the full Covenant Harbor camp experience. However we are not always able to meet every need – especially those that require one-on-one custom care. Each child and situation is unique, so please contact us according to the information in our policy to discuss how we can best serve you and your child. Check out our policy.
Cancellation Policy
Cancellations must be received in writing (via email, fax, mail, or at the office). The Cancellation Policy is based on when we receive written notification:
More than 2 weeks before the first day of camp-Full refund minus the non-refundable deposit ($10 per day).
Less than 2 weeks before the first day of camp-No refund.
Exceptions may be made for medical reasons when doctor's verification is presented prior to the start of camp.