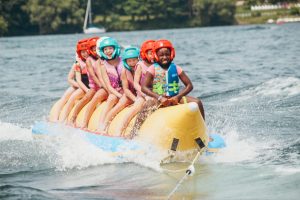 Camp ministry is an incredibly powerful tool that God uses to reach the lives of children and youth. We strive to make every experience at camp a meaningful one. Our vision is that Covenant Harbor is a space for every camper to have a life-changing experience – whether that is the first seed sown in a camper's life or their faith is continued to be nourished and grown. There is no greater privilege than to be involved in God's work of sharing the good news of Christ's love with each camper. 
Covenant Harbor's mission is to draw people from their routine into opportunities to enjoy creation, recreation and relationships so that all will experience God through Jesus Christ. 
Specifically, the mission of our Youth Ministry department is to Love Kids and Share Jesus. 
Love kids. We want camp to be a safe place where kids can be themselves and grow into the person God created them to be. We do this by having lots of fun, building great relationships, and creating life-long memories.
Share Jesus. We want every camper to know how deeply they are loved by God and to help them grow in their relationship with Jesus. We trust the work of the Holy Spirit in each camper's life as we listen to and respect each camper's response. Our goal is to simply give campers the opportunity to learn about God's love and grace.