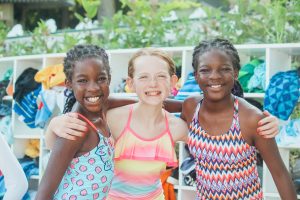 What a gift it is to be safely through Week 4 (the almost halfway point) of the summer camp season. We remain grateful for you, our dear friends and champions of camp ministry – for your prayers, encouragement and financial support that sustained Covenant Harbor through a challenging year. Here are a few camper reflections and photos from the first half of the summer to help show the impact of ministry – ministry that comes to life in young lives!
Our youngest Pier 30 campers, who are in grades 4 – 6, have shared that their camp experiences are personally meaningful:
I learned to be brave
I will try to overcome my fears
I will trust that Jesus is near
I should follow the path God has made for me
I learned that God loves everyone
The boats are motoring, tubes are flying, banana boats are flipping, and the water is host to hundreds of campers each day. The sun is shining, the hand washing stations are active, the food is delicious and nourishing. And, campers are spending much needed quality time together. They are rediscovering their own independence and self-confidence. They are experiencing the joy that accompanies new relationships with camp friends. Most importantly, kids are hearing the Good News about God's love through a relationship with Jesus Christ, and are on the receiving end of a week's worth of love from their counselors and the staff. Thank you for walking with us this past year so that these life-giving and joy-filled camp experiences would endure!