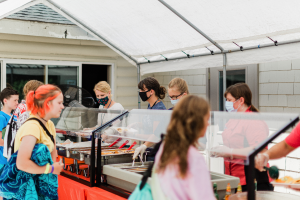 Covenant Harbor's vision is to create space for life change. That vision is at the core of all that we do. As the Guest Services Director, my job is centered around how we can carry out this vision for each guest who walks onto this sacred place. Everything our team does at Covenant Harbor, from hosting guests for a day or week, to cleaning cabins, setting up meeting spaces, crafting menus, scheduling the best camp activities, and working hard to take on the details, is so each guest can experience transformation. We serve with divinely-inspired care, seeking to carry out Philippians 2:3-5: "Do nothing out of selfish ambition or vain conceit. Rather, in humility value others above yourselves, not looking to your own interests but each of you to the interests of others. In your relationships with one another, have the same mindset as Christ Jesus."
So then, when all the plans for 2020 suddenly vanished, what do we do now? 
This past spring, creating a space for life change meant keeping guests from gathering physically at camp in order to keep everyone safe. We had to pause, wait and let go of our sense of control, and be comforted that God is in control.
While camp was empty, our vision became about being a listening ear, calling and connecting with group leaders and pastors who were having to let go of rhythms and plans. Instead of welcoming guests in person, we were called to come alongside others virtually to grieve with them when there was no way to recoup the loss of a graduating seniors' retreat or a milestone celebration that was planned as a camp event. Loss this year is much greater than cancelled plans and retreats, so to walk with people through this season has been a precious gift and a new avenue in which to serve.
This summer, preparing a place for life change meant reviewing every element of the reimagined youth camp experience and making changes to protect the health and safety of all guests and campers. Every area of camp was affected: handwashing stations were added all over camp, dining shifted to mostly outdoor meals, our already high standard of cleanliness was increased, and so much more.
Planning ahead has been extra difficult this year. We believe there is a right time for each group to return to camp. 2020 means trusting God for his perfect timing and celebrating every guest with a deeper appreciation and awareness of God's provision and plan.
Serving guests in 2020 has prompted us to pause, pivot and change, even as we have continued to look to our God-given vision. On our journey, we have sought "the same mindset as Christ Jesus" every step of the way. We are overwhelmingly grateful. The future is still foggy (and as it always has been, is out of our control), but Covenant Harbor is still here and will continue to create space for life change as we eagerly follow the Lord's leading in serving guests!
Stefanie Wessel
Guest Services Director