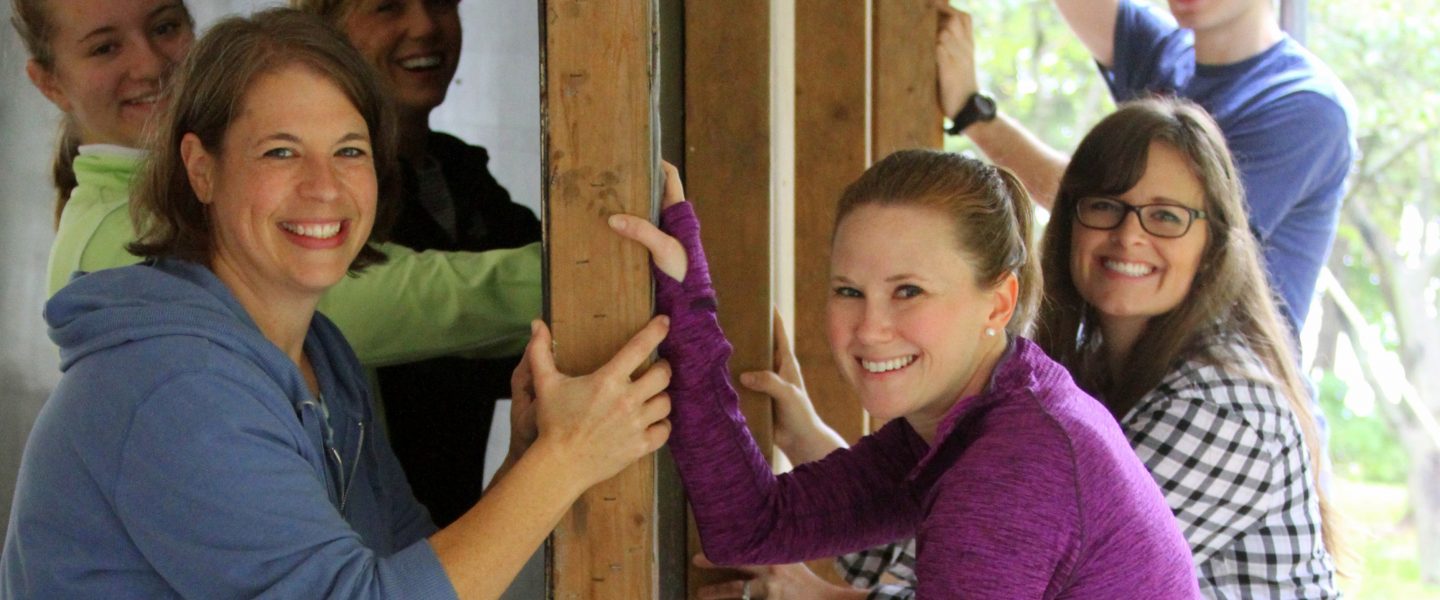 believe.love.serve.
Help us get ready for the upcoming camp season. Pick up a paint brush, prep buildings for winter – every little bit helps!
In the midst of the ongoing COVID-19 pandemic, we have made the difficult decision to cancel our May and June believe.love.serve. volunteer days. We are so thankful for everyone who registered and was planning on attending. Our staff always looks forward to working alongside you in preparation for our summer season. Your help during these work days helps Covenant Harbor in more ways than one, and we will miss being together with you this spring. 
If you have additional questions regarding Covenant Harbor's health and safety policies in regards to COVID-19 or are interested in our new reimagined 2020 Summer Programs, please see additional information here. 
Help us transition camp in between seasons and prepare our buildings and grounds for summer or winter. Pick up a paint brush, hammer, or cleaning supplies – every little bit helps!
Be our guest and stay for FREE when you volunteer at believe.love.serve. We will provide overnight accommodations as space allows, childcare (for ages 2-8 only unless special arrangements are made) and three meals on Saturday, starting with breakfast for all volunteers.
Please Note: Participants under age 18 must be accompanied by a parent/guardian or another adult (if attending with a church group) who is responsible for their care.
Work projects begin promptly at 9:00 am on Saturday and continue, with snack breaks, until 4:00 pm. We are flexible, though – if you want to come up on Friday afternoon for a few hours as well or if you can't make it until later Saturday morning, please let us know. We would still love to have you join us!
What might you be doing when you volunteer? Check out the list below of possible projects that we will be looking to tackle during believe.love.serve.
Bring your family, your friends, your small group, youth group or your whole church!
The Weekend Details
Painting
Walls, doors, door-frames, chair railing, stairway railings, bathroom dividers, trim work, elevator doors, boathouse railing, window frames, and more.
Construction
Various projects including drywall repair, deck repair, replace door latches and stops, duct work repair, cut new vents in shower doors, screen repair, caulking, add fiberglass board to showers, add wood trim around A/C units, install down spouts, electrical labeling on circuit breakers (electrician), work on A/C-heating units (someone with this knowledge), and more.
Gardening
Weeding, raking, and cleaning up.
Cleaning
Several buildings need a deep cleaning. Some of the tasks involved will be to wash curtains, shower curtains, vents, mattresses, and kick plates, clean out fireplaces, clean carpets and furniture, power wash the exterior, and more.