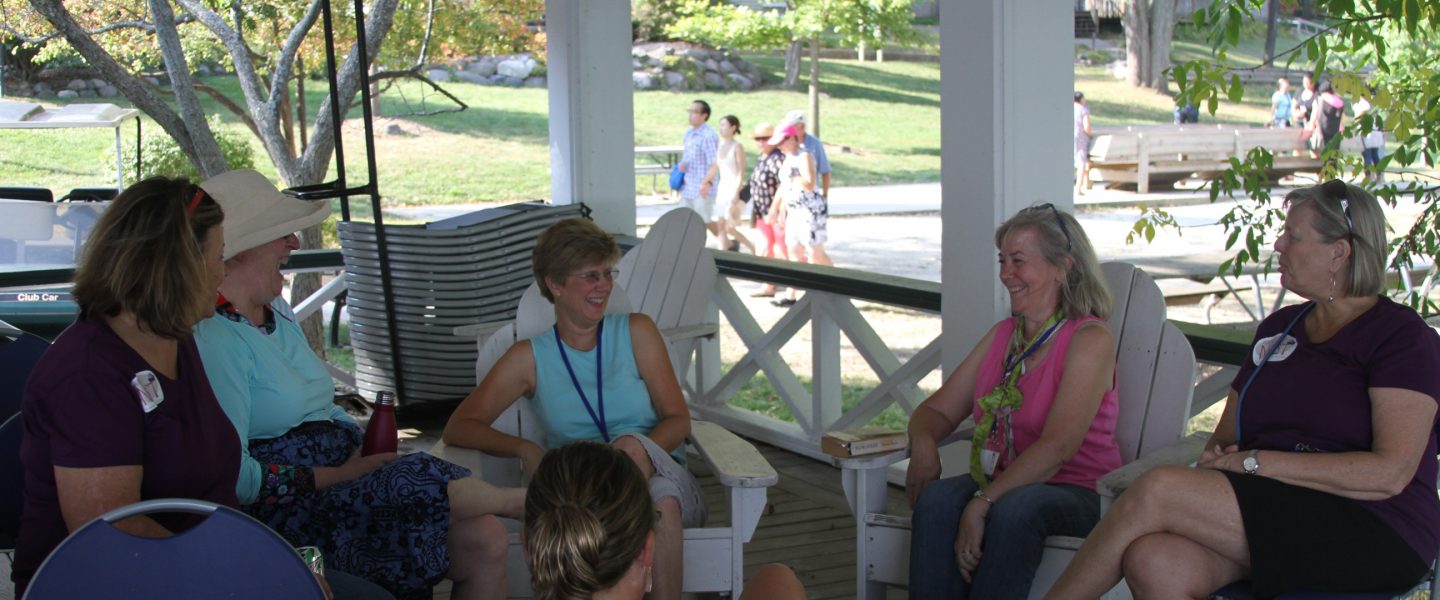 Fall Fellowship Women's Retreat
Be refreshed and encouraged in your faith together with your sisters in Christ at camp. Set aside the weekend and invite a friend to join you at Fall Fellowship!
Sept. 13-15
Registration Open
Women — this retreat is designed for you—it is your turn to enjoy all that Covenant Harbor has to offer!
The Fall Fellowship Women's Retreat is a fun-filled getaway for women to come to know, or to grow in their relationship with the Lord. Through joyful worship, engaging workshops, and rejuvenating fellowship, women make lasting connections with each other and with their heavenly father.
A ministry of the Evangelical Covenant Church Central Conference Women Ministries, Fall Fellowship is a retreat for women eighteen years and older. It's an opportunity to step away from everyday demands for a time of refreshment and renewal.
Check out all the important information below!
Speaker
Speaker: Rebecca Gonzalez
Rebecca currently serves as the Executive Director of Operations for the Evangelical Covenant Church. While in this role she provides oversight to the Governance, CovEvents, Human Resources, Information Technology and Facilities ministry areas of the denomination.
This Chicago native is energized by her marriage of 21 years to Jorge and her two boys Luiz (12) and Daniel (14). They are part of River City Community Church, a multi-ethnic Covenant Church.
With her family, Rebecca has provided logistical support for ministry, mission and community development projects in North America, Central America and the Caribbean.
Pricing & Registration
Fees are per person and include meals and lodging from Friday afternoon through Sunday brunch. Friday supper is included, from 6pm – 7:30pm with program beginning at 8pm. Check-in begins at 5pm.
Geneva Bay Center*: $225 – Hotel-style with elevators. Each four-person room has a private bath. Bedding and towels are provided. Priority placement in GBC will be for those with identified special needs.
Engebretson and Guest House*: $195 – Dormitory style with bunk beds and attached bathrooms. Note: Bring your own bedding and towels.
Hilltop House, Triplets, and Lodge: $180 – Dormitory style with bunk beds and attached bathrooms. Note: Bring your own bedding and towels.
Kishwauketoe: $130 – An economical option for "Roughing it". Dormitory style with a bath house down the path, Space heaters available. Note: Bring your own bedding and towels.
Commuter: $120 – includes all programs and meals.
*These two buildings are handicap accessible.
Registration Information
Registration will open on June 1. Please complete and return the Registration Form with your payment of the non-refundable $50 deposit…or more.
Registrations received at Covenant Harbor will be randomly processed
beginning on June 1, and will be handled on a first received/first served basis thereafter. Registration is open throughout the summer months and is to be paid
in full by August 27, 2019. Any final balance is due at that time. Refunds, less the $50 deposit, are given only until September 1.
Registration should be mailed to:
Central Conference Fall Fellowship 2019 Covenant Harbor,
1724 W. Main St., Lake Geneva, WI 53147
Click on the buttons below to download the registration or scholarship request form.
Morning Workshops
Being & Becoming: Looking Back to Move Forward – Rev. Debbie Blue
"How do you know where you're going when you don't know where you've been?"
In this workshop, participants will explore a life in remembering God's presence and provision in the past and the present, while reimaging God's purpose for the future. With the thoughts of Soren Kierkegaard, "Life can only be understood backwards:
but it must be lived forward," and the West African concept of Sankofa – "Looking back to move forward," we will create a space to review and renew.
The Gentle Art of Coping with Aging – Colleen Felts, RN
Aging is a part of life! There are many challenges as we approach that point when we see silver threads among the gold. The Center for Disease has developed a fifteen hour evidenced based class that helps with concerns related to aging. Colleen will present highlights from these classes. Included will be tips for individuals, as well as churches, as to ways to cope with the aging process and health related needs. Tools for managing aging will be presented in a positive and fresh way.
Enneagram & Coffee – Rev. Melissa Wall
Ever wonder what makes you tick and how you make decisions and what excites you and what annoys you? All of this can be found in your Enneagram. We will dive into the Enneagram types and if you know your number or not this workshop will be fun to learn more about you and the people around you.
Missionary – Prajakta David
Prajakta David is manager of ministry services for Serve Globally of the Evangelical Covenant Church. In her role with Serve Globally, Prajakta provides support for operations, communication for the ministries within Serve Globally, and leadership to the Global internship program.
LUCES! CAMARA! ACCION! – Drina Lizama
Proverbios 15:13. Al correr la película de nuestra vida, hay que evaluar las escenas principales en nuestro corazón, a la luz de la palabra de Dios. Y concluir con: Son estas reales o artificiales? Están estas claras u obscuras? Spanish Workshop
Afternoon Workshops
Encounters at the Table – Keynote Speaker Rebecca Gonzalez
Every day before us is a table with a feast awaiting us. It's time to enjoy the people, food and experiences at these encounters. Often times busyness, paradigms and
fear keep us from partaking and engaging in these experiences. We'll learn how being courageous, intentional and open at these encounters will be personally satisfying, while also affording others the opportunity to experience God through you.
Spanish workshop.
Endurance…what does it mean when facing surgery? – Peggy Peryam Practical preparation and hints for you and others pre-and post-surgery, as well as God's wisdom in enduring.
Wood Sign Workshop – Karen Lang
Create your own Stenciled and painted sign with "The Light has Dawned" on it and a painted scene. Cost is $12 per person – limited to 25 ladies.
Crêpes Workshop
Save room after lunch for a hands-on dessert experience!! Learn how to make crêpe batter, cook and flip crêpes and then make your own crêpes. Top and fill your crêpes with a variety of fruits and chocolate. The chef instructor will review basic knife skills and teach some fun fruit garnishes to add to your crêpes – limited to 40 ladies.Note: Not suitable for people with gluten, milk or nut allergies.
Productive Communications in Relationships – Pastor Danny Martinez
Finding productive lines of communications with your other half can sometimes be challenging. Pastor Danny will be sharing personal insights on communication in marriage and relationships. Pastor Danny is the Superintendent of the Central Conference of the ECC.