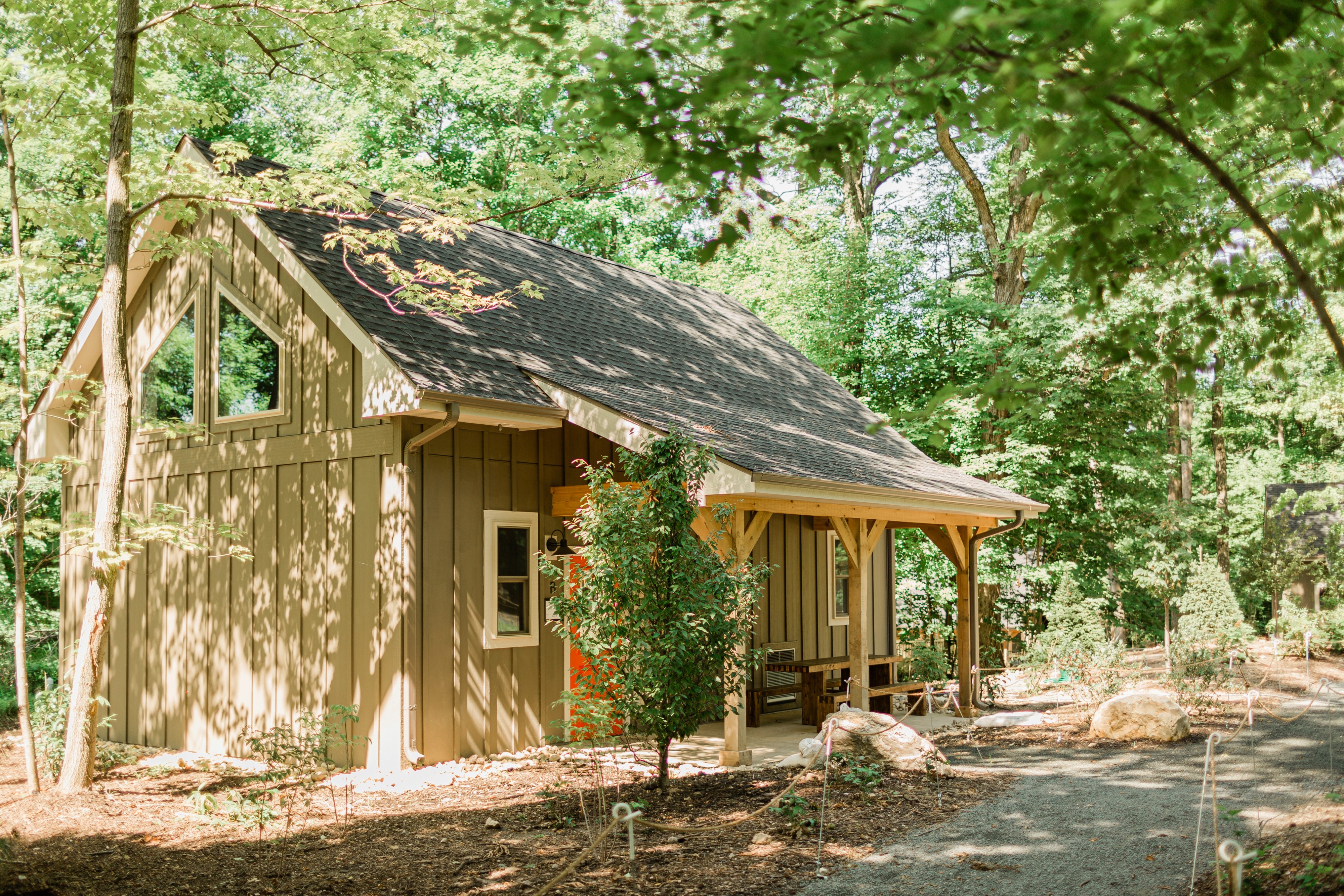 Kishwauketoe Premier
We affectionately call this lodging style "Kish" for short. These are our newly renovated cabins tucked away in their own village.
The Kishwauketoe Village
The Kishwauketoe Village has six separate cabins that each hold 10 individuals, and the entire village can accommodate 60 guests. Each cabin includes its own bathroom, covered porch with picnic table, and loft meeting area. All cabins include heating and air conditioning, and have enough room inside for small group meetings. These cabins are set apart from the rest of camp and are perfect for creating a space just for your group. The Kishwauketoe Village includes its own playground, campfire circle and activity area.
Kishwauketoe Premier Cabins
There are four Premier Kishwauketoe Cabins that are located in the Kish Village. These cabins accommodate up to 10 people and have five bunk beds. Each cabin has its own bathroom inside the cabin. Kishwauketoe cabins include an indoor loft area with seating and a covered porch with a picnic table. Premier Kishwauketoe includes a coffee maker, mini fridge, microwave, and smart TV. You will also have access to the Kishwauketoe playground, campfire circle and activity area.
Learn More About Our Kishwauketoe Premier Cabins
Amenities
Amenities
5 bunk beds 

1 bathroom, 2 toilets, 2 showers and 2 sinks 

1 loft area with seating 

1 covered porch with picnic table 

Coffee Maker

Mini Fridge 

Microwave 

Smart TV
Pricing
Weekend Rate: $319 per night 
Weekday Rate: $299 per night 
No hidden fees or taxes will be added on.
Discounts
Extended Stays: Discounts will be added on for additional nights. 
3rd night: $25 off 

4th night: $50 off

5th night: $100 off

6th night: free 
Bring a Family Discount: If you and another family both come during the same month and rent different cabins, you each will receive $50 off your total cabin rental fees. 
Covenant Family Discount: If your family is apart of an Evangelical Covenant Church, you can receive $50 off your total cabin rental fees. 
All discounts can be combined to save even more!