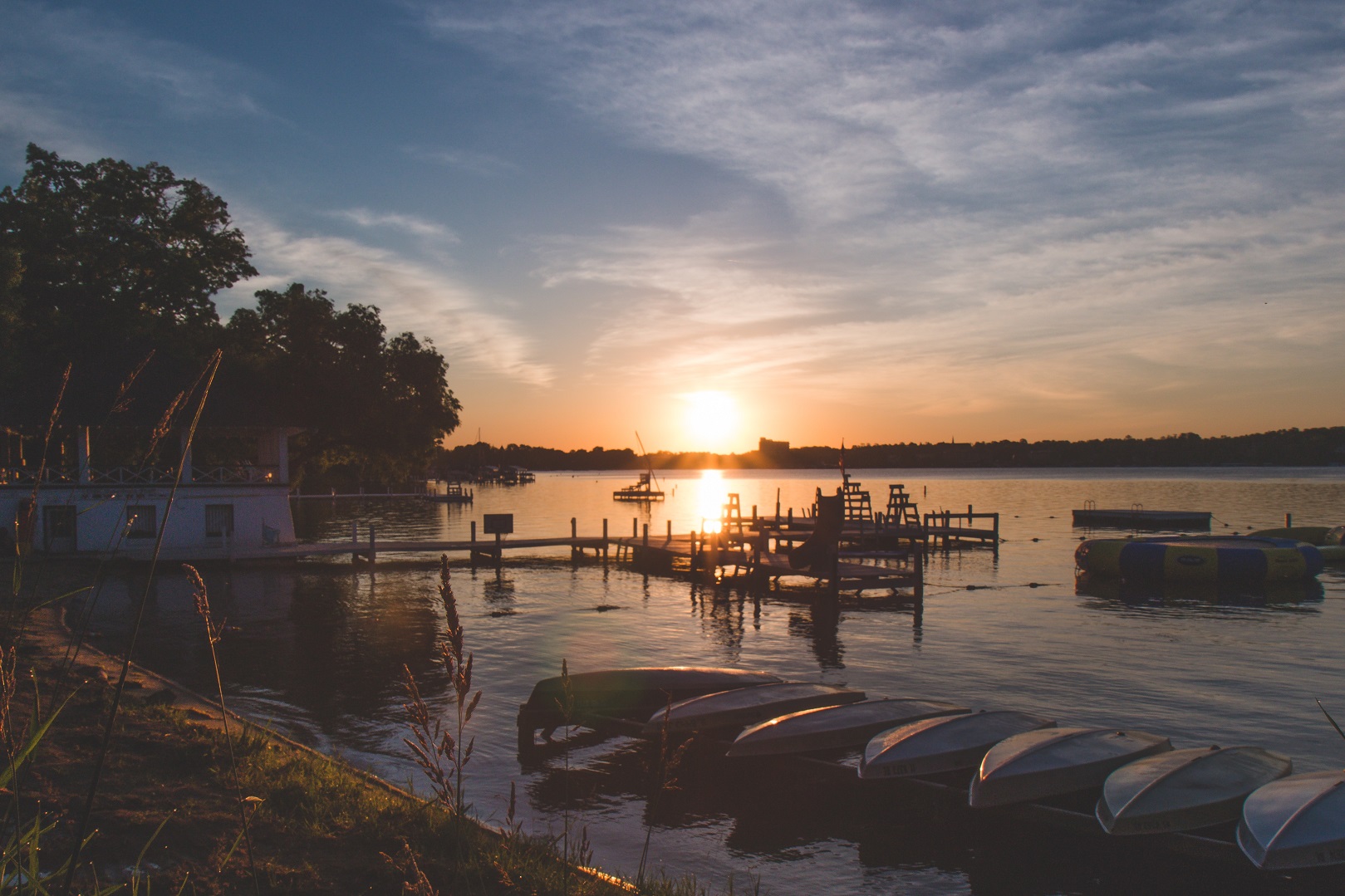 COVID-19 Statement and Health Announcements
Covenant Harbor is committed to the health and safety of all our campers, guests and staff. These concerns are our highest priorities as we continue to serve our guests.
The Covid-19 pandemic has brought a major shift to the world and to Covenant Harbor. The past few months have brought challenges for everyone. Know that we continue to pray for you during these uncertain days. Whatever your circumstances, may you know God's presence and peace. 
Covenant Harbor is uniquely located on the northern shores of Geneva Lake on 52 acres in southern Wisconsin. In 2019 we welcomed thousands of guests onto our property from not only our neighborhood in Lake Geneva but throughout the whole country, but like much of the rest of the world, 2020 has looked different. 
As we continued to monitor and navigate the ongoing Covid-19 pandemic, Covenant Harbor made many changes. Our goal throughout all our work was to meet and exceed the recommendations of and guidance from state and local officials, the CDC, and the American Camping Association. 
Covenant Harbor has been here since 1947, drawing people into Christian community and the presence of Christ. We remain committed to our mission of being a space for all to experience Jesus Christ and we will continue to do all that we do safely. We trust that God is still calling us to steward this ministry for decades to come. 
Below you will find different sections that address the current status at Covenant Harbor. If something is not written below that you are looking for, please reach out to us by phone at (262) 248-3600 or by email.
We invite you to explore the sections below to learn more about the current reality of Covenant Harbor.
Spring Closures
On March 13, all guests left Covenant Harbor and we began an unexpected season of inactivity. 
All rental and school groups were cancelled throughout the spring. Additionally, all Covenant Harbor events were cancelled including Road Scholar retreats, 60+ Day, believe.love.serve. volunteer days, all Summer Sunday Worship services, our public celebration for retiring Executive Director, Rev. Ray Warren, and the annual Fall Fellowship Women's Retreat. 
These cancellations brought much disappointment. Camp was empty from March 13 through mid June. Staff followed the Safer at Home order and safely worked from home with the exception of only essential staff working on grounds. 
Summer 2020
Covenant Harbor's Reopening 
In preparation for our Reimagined Summer 2020, Covenant Harbor designed and implemented our own "Reopening Phrases" to welcome back our staff, campers and guests on to our grounds. 
On June 1st, Covenant Harbor entered into our first of four reopening phases. This was the first step after following the "Safer at Home" guidelines when we had no guests onside and only essential staff working on our grounds while other staff worked from home. On June 16, we were able to safely progress to phase two of reopening. This phase included staff completing daily health assessments before coming onto campgrounds and allowing for more staff to come back to the office including having small group meetings in person. On June 24, Covenant Harbor entered phase three of reopening. Phase three allowed us to serve larger groups including campers and families for our summer programs. Covenant Harbor is currently in phase three of reopening, and continues to thoughtfully plan for moving into the final fourth phase. (summer 2020 operated under phase three and continues that way until further notice)
On May 12, with heavy hearts we made the decision to delay the start of summer camp for 2020 and cancelled all overnight programs. Under the leadership of our board and through prayerful discernment, we concluded that safety for overnight campers in the midst of the ongoing COVID-19 pandemic simply could not be achieved in compliance with guidance from healthcare and public officials and our own high standards.
We also launched our Reimagined Summer 2020 Programs at the same time. As we moved forward with these programs, we continued to be committed to meeting and exceeding: 
Your safety expectations for health, cleanliness and supervision.

The latest guidelines and regulations from the state and CDC.

Our high standards of quality for programming. 
This new, non-overnight program reimagines and expands our thriving Day Camp summer program and now provides kids and youth programs for campers entering 1st through 9th grade this fall. Teams are separated by age group and are purposely designed with appropriate programming to incorporate what each age group loves most about Covenant Harbor, including our popular Skills Program for 7th through 9th grade campers. 
Gather up to ten cabin mates and spend a week or more in one of Covenant Harbor's cabins. Enjoy meals provided by our food service staff and limited activities throughout your stay. Your children can also attend one of our Kids and Youth Programs during your Getaway. 
Current camper parent families had the following options for changing their summer camper registrations. 
Request a spot for their child or family in the new Summer 2020 Day Kids and Youth Program or Family Getaway

Roll your camper's registration fee into a 2021 Covenant Harbor and receive priority in registration.

Request a full refund of what you paid toward your camper's registration fee. 

Donate a portion or all of your camper's registration fee to the Covenant Harbor Fund to help sustain the ministry through the pandemic. Your donation is tax deductible and will have double the impact thanks to generous friends of Covenant Harbor who offered to match (dollar-for-dollar up to $50,000) donation made to the Covenant Harbor Fund through camper registration fees.
Fall 2020
The spring and summer brought major changes to Covenant Harbor and our fall will be similar. Our group and school rentals and retreats are still unpredictable with the uncertainty of the pandemic across the country. With that being said, we expect to end the year with only 30% of our normal group and school rentals.
However, since our summer Family Getaway programs were such a popular retreat for families, we have decided to continue those into the end of the year. 
Families can participate in our expanded Family Getaways through overnight stays, joining our after school adventure activities, and reserving an individual work space. Our hope is that these Family Getaways will create a space for families to come together away from their normal routines and experience life changing experiences through Jesus Christ. 
Learn more about these Family Getaways here. 
Overnight Stays: Now you and your family can rent a cabin or a hotel style room for any amount of time. Some activities are available to our overnight stays.
After School Adventure Activities: Take an adventure with the whole family! Our new after school activities provide you with a variety of different activities to do every Tuesday and Thursday!
Individual Work Spaces: Whether you are staying overnight or looking for somewhere local, you can reserve a private work space and make it your new office or classroom. 
Restructuring Our Team 
As we navigate through this uncertain and unforeseen season at Covenant Harbor, our staff have taken many steps to help sustain the ministry. We have taken significant cost-saving measures including reducing salaries, freezing 403(b) contributions, furloughing staff, re-negotiating contracts with vendors, closing unused buildings, halting capital spending (except to complete most of the Kish Village construction project). We continue to push into more creative cost saving measures and new revenue generating streams in the next coming months. While we look forward, we continue to work closely with our board and sister camp, Covenant Point, to continue in camping ministry. 
Looking Ahead and Into 2021
Looking ahead to summer 2021
Isn't looking ahead to next summer a wonderful thought? We think so, too and are actively planning for summer 2021 programs at Covenant Harbor. Camp continues to be a place the Lord uses to provide opportunities for life change within your family, children and communities, and we look forward to what he will do in summer 2021!
Planning programs
Using the health and safety best practices we have developed and built into all of our camp experiences these past months, we are planning carefully for summer 2021. We intend to run day and overnight programs – and exactly what they look like is still being determined. Summer 2021, by God's grace, will be a good, safe summer.
Registration 
Ordinarily, we open online summer registration on November 15. This year we are taking some extra time to hopefully minimize changes that will likely be needed as summer approaches. Our goal is to be as confident as possible in what we offer.
Right now, we are planning to open summer 2021 online registration in early January.
Finally, thank you for your patience and prayers. As it is with your family, flexibility and discernment are key. Everything is new. What is not new, however, is God's call that we remain in service to you and in ministry with you.
Thank you for your partnership. May God be present to you as you navigate your own pathways forward.
Health and Safety
Ministry Sustainability
Covenant Harbor Fund and Covid-19 Impact
Covenant Harbor has been a place for people of all ages to come to know Jesus, and grow in faith and discipleship. They are equipped to go and serve the world in Jesus' name. 
Generous individuals and churches have faithfully sustained our programs, buildings and grounds through the years, protecting, preserving and improving Covenant Harbor's unique setting and spaces for renewal. 
Under normal circumstances, Covenant Harbor's funding model is one in which operational expenses are covered by fee income. However, due to the Covid-19 pandemic this year, Covenant Harbor anticipates more than a $3 million revenue loss due to the spring camp closure, and programs and rental group cancellations. Support to the Covenant Harbor Fund is needed most at this time in order to sustain the ministry through this unforeseen crisis and ensure a long-term future for Covenant Harbor.
The Path Forward is Together – We We Need Your Help 
We are committed to being creative, proactive, self-disciplined and safe as we work towards reducing the deficit. Even with aggressive spending freezes, salary reductions and cost cuts, which includes furloughing about 80% of our staff, we still project a significant financial deficit over the next ten months. We are going to need the help of many to raise the $800,000 needed to close this gap. In order to do this, we aim to raise $550,000 by the end of the year and the additional $250,000 that is needed by May 31, 2021. 
If you are able, we invite you to partner with us financially with support to the Covenant Harbor Fund to help sustain Covenant Harbor's ministry through this financial challenge. 
To donate or find more information, please see our Covenant Harbor Fund page.
How can you help? 
You can partner with us by: 
Providing

monthly support to the Covenant Harbor Fund by establishing a recurring gift

Making

a one-time gift to the Covenant Harbor Fund

Texting

"CovenantHarborFund" to (262) 393-GIVE 

Mailing

a check to Covenant Harbor at 1724 W Main Street, Lake Geneva, WI 53147

Transferring

gifts of stock/securities to Covenant Harbor

Directing

funds from your Donor Advised Fund to the Covenant Harbor Fund

Making

a qualified charitable donation to the Covenant Harbor Fund through your IRA

Including

Covenant Harbor in your will or estate plan

Sharing

Covenant Harbor's need with family and friends and encouraging them to make a gift to the Covenant Harbor Fund to support and sustain the camp ministry
Volunteer Opportunities – we need additional hands this year!
You can also help sustain the ministry by volunteering! We need additional hands to help us through this season. Come once or come often, we would love to serve alongside you. Contact us by phone or email if you are interested!