New life springs forth with an exciting project.
Bringing people together has always been the heartbeat of our ministry at Covenant Harbor. With that mission in mind, watch Executive Director Eric Anderson share details about the replacement of the 70-year-old Triplet cabins and the construction of two new lodges and outdoor gathering space.
Project Plans
Two new lodges will each have four cabins with improved layouts - two on an upper level and two on a lower level. These buildings will sit on the footprint of Triplet 1 and Triplet 3. Additional upgrades include one new ADA-friendly cabin, a flexible meeting space, improved bathroom facilities, air conditioning and sprinklers. A new large outdoor gathering area, including a patio and fire pit, will connect the buildings and sit on the (middle) footprint of Triplet 2.
Fundraising Goal
The total project cost of the two new lodges and outdoor gathering area is $2.3 million. The incredible news is that thanks to generous friends who have already come forward, the project is fully funded based on current economic conditions.
Built in 1952, the Triplet cabins have served us well.
Recently, engineers informed us that the useful life of these beloved cabins has come to an end. The reality is that building and safety codes have changed over the decades. It is time to replace these cabins with ones that will serve us well, into the future. 
Visual concepts for new lodges
Additional Project Details
Part of a bigger picture
Replacing our current dining hall, which includes lodging, is the centerpiece of Covenant Harbor's master plan. To allow us the most flexibility in planning a new dining hall, we are creating comfortable, ample accommodations in other buildings. The new Kishwauketoe cabins, completed in 2020, added some of the beds we will need. Building two new, larger lodges on the site of our current Triplets moves us even closer to readiness for a new dining hall.
Although we are far from breaking ground on a new dining hall, we are thinking far into the future of ministry here at camp. We hope that this is as exciting to you as it is to us as we look forward!
Project budget - $2,300,000
The cost of the project includes:
Demolition of three Triplet cabins
Construction of two identical two-level lodges on the footprints of Triple 1 and Triplet 3
A total of eight cabins with 82 non-summer beds and 102 summer beds, 14 sinks, 14 showers, 14 toilets, air conditioning, sprinklers and flexible meeting space and one new ADA-friendly cabin

New outdoor gathering area with a large patio and fire pit where Triplet 2 currently stands

New paved pathways above and below the lodges for easy access from the road on the big hill

New and improved landscaping
Notable features
The new buildings will be efficiently designed, leveraging topography, with walk outs on upper and lower levels.
Exterior finishes will be complementary to the Carriage House and Engebretson, the neighboring buildings.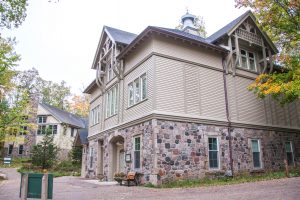 Interior finishes will follow a similar style to the new Kish cabins with built in bunks and ladders, hardwood floors and siding on walls.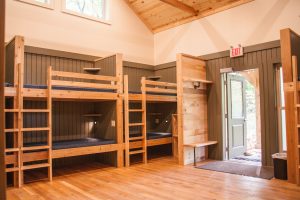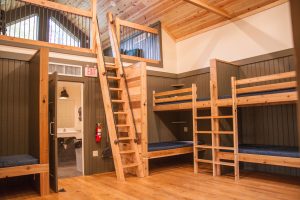 The two new buildings will be built on the site of Triplet 1 and Triplet 3.
A new terraced patio with lake views and fire ring will be built on the site of Triplet 2.
When completed, the two new lodges will replace not only the 60 current Triplet beds, but will add 22 non-summer and 42 summer beds on the same footprint as the current Triplets.
Ministry impact
As we gradually return to robust ministry, God has given us a window of opportunity to launch this project. Our non-summer guest and retreat groups remain smaller, so with fewer people on site, we are uniquely positioned to take the Triplets offline with minimal disruption of our programming. We are aiming to have both new lodges online for use in summer 2023.
Allows for increased  staff to camper ratios
Increases ADA-friendly accessibility with addition of ADA-friendly cabins
Improves toilet, sink and shower ratios
Offers better design for leaders and neutral bathrooms
Meets and exceeds new codes
Provides adequate sized meeting space for those staying in building
Tentative project timeline
Fall 2021: Project launch (Completed)
Spring 2022: Demolish Triplets before summer and pour foundation (Completed)
Summer: Strategically reduced construction during summer camp (Completed)
Fall: Accelerate construction
Spring 2023: Fundraising complete (Completed)
Summer 2023: New buildings ready for summer camp use
Ready for campers in 2023
Pending the permit process, the new lodges should be online and ready for summer camp use in 2023.
We experienced little to no interruptions to summer 2022 programming.